Training for a Commercial Pilot Certificate
January 30, 2021 @ 12:00 pm

-

1:30 pm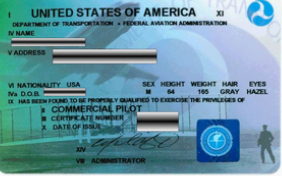 Due to the COVID-19 public health crisis, this seminar will only be available for online viewing. IN-PERSON ATTENDANCE WILL NOT BE PERMITTED.**
Click here to learn more about online viewing.
The path for all certificated pilots begins at the same place, as a student pilot. But after getting their private pilot certificate, a wide number of paths open. What is one way to take your flying career to the next level? Go for a Commercial Pilot certificate!

San Carlos Flight Center invites newly certified instrument-rated commercial pilot David Agranovich to discuss his experience training for his commercial certificate. In this seminar, David will highlight the steps he took to train and prepare for the Commercial checkride. He will review the prerequisite for the rating, the commercial maneuvers you must master, and the relevant knowledge that must be acquired. The commercial pilots license calls for extensive familiarity with all things related to flying, and it's the applicants responsibility to ensure understanding in all areas.

For anyone looking to train towards their commercial pilot certificate, join us for this seminar to learn from a newly rated pilot and his first-hand experiences.
David Agranovich is an instrument-rated commercial pilot working on his instructor certificates. He's normally found taking his 182 out for flights in the Sierras or running shelter dogs up the coast for Pilots and Paws. In his spare time, he works at Facebook leading their efforts to counter foreign interference in elections.
San Carlos Flight Center (SCFC) is the SF Bay Area's most dynamic flying club, committed to building general aviation through safety, community, and adventure. AOPA has consistently recognized SCFC in their Best Flight School survey, most recently in 2019 as a Distinguished Flight School.
SCFC is committed to promoting safety in general aviation through our regular safety seminars and guest speaker programs. Space is often limited so it is important to sign up early. SCFC members may choose to watch the seminar live over the web at home, or recorded at a later date. Click here or contact a SCFC member service rep at (650) 946-1700 for more information about online access.