Ground School Refresher: Flight Instruments
January 27, 2021 @ 7:00 pm

-

8:30 pm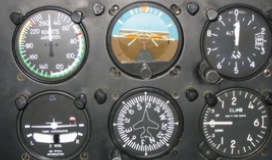 Due to the COVID-19 public health crisis, this seminar will only be available for online viewing. IN-PERSON ATTENDANCE WILL NOT BE PERMITTED.**
Click here to learn more about online viewing.
When pilots first start flying, they learn enough of the basic flight instruments to read and interpret them in flight. You have learned a bit more, but it may have been a while. In this Ground School Refresher, we'll take a new and fresh look at the fundamental flight instruments, pushing maybe a little deeper than you did as a student. Join us for a review and maybe even to learn something new.

Can you answer these questions? What math is done to calculate altitude in a pressure altimeter? What is the formula used by the airspeed indicator? How can understanding the pitot-static instruments from a mathematical perspective help you troubleshoot instrument failures and faulty readings? Why the heck does the magnetic compass read incorrectly in banking turns? Why doesn't the heading indicator tumble? In this safety seminar, an experienced SCFC CFI will answer all of these questions, along with any others you may have.

It is important for every pilot to have an understanding of their flight instruments, as many pilots rely on them throughout their flights. Join us to learn, review, or polish your knowledge on this important topic.
Sydney Rapp is a flight instructor at San Carlos Flight Center, and started flying at age 18 in her hometown of Dallas, Texas. She attended Saint Louis University where she earned her B.S. in Aeronautics and became a CFI/CFII/MEI during her senior year of college. After over two years of teaching in the Saint Louis and DFW areas, Sydney has gained valuable experiences she shares with her students to promote safe and fun flying. She is excited to be living in the Bay Area and teaching at SCFC.

San Carlos Flight Center (SCFC) is the SF Bay Area's most dynamic flying club, committed to building general aviation through safety, community, and adventure. AOPA has consistently recognized SCFC in their Best Flight School survey, most recently in 2019 as a Distinguished Flight School.

SCFC is committed to promoting safety in general aviation through our regular safety seminars and guest speaker programs. Space is often limited so it is important to sign up early. SCFC members may choose to watch the seminar live over the web at home, or recorded at a later date. Click here or contact a SCFC member service rep at (650) 946-1700 for more information about online access.