Investigating Airplane Ownership
December 9, 2020 @ 7:00 pm

-

8:30 pm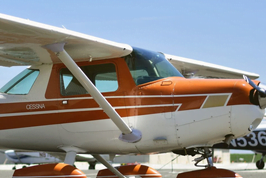 Due to the COVID-19 public health crisis, this seminar will only be available for online viewing. IN-PERSON ATTENDANCE WILL NOT BE PERMITTED.**
Click here to learn more about online viewing.
At some time, most pilots consider owning their own plane. Have you? Because of the large investment and the risks associated, buying a plane can be as daunting as buying a small home. What costs should you expect? Will owning save you money over renting? What about buying an airplane with partners?

In this seminar, Nick Williams, aircraft owner and commercial pilot along with Alessandro Franco, owner of the San Carlos Flight Center, will share the advantages of buying your own airplane. They will discuss choosing the right airplane, how to navigate the purchase process, and what to consider when inspecting a potential airplane. The challenge of owning an airplane doesn't end after the initial purchase. It is important to recognize the cost of required maintenance as well as other future expenses. Nick will also highlight how airplane ownership benefited him as a pilot by providing him an opportunity to have a deeper understanding of your airplane systems and maintenance as well as allowing him to further develop as a pilot.

If you ever considered purchasing your own airplane and want to hear firsthand about airplane ownership and learn from the experiences of others, join us for this unique opportunity to become enlightened about airplane ownership.
Nick Williams is an instrument rated commercial pilot with about 300 hours, half of which are in his Cessna 152, which he has flown from Redding CA to the Mexico border and dozens of airports in between. He's been a member of SCFC since summer 2018 and is currently studying for the CFI exams. Outside of aviation, he's a project management professional in the software industry, and lives in Noe Valley with his wife and dogs.
Alessandro Franco is a pilot and the owner of San Carlos Flight Center. He manages the leaseback program and works closely with aircraft owners on a variety of matters, including leaseback contracts, maintenance, and aircraft sales.
San Carlos Flight Center (SCFC) is the SF Bay Area's most dynamic flying club, committed to building general aviation through safety, community, and adventure. AOPA has consistently recognized SCFC in their Best Flight School survey, most recently in 2019 as a Distinguished Flight School.
SCFC is committed to promoting safety in general aviation through our regular safety seminars and guest speaker programs. Space is often limited so it is important to sign up early. SCFC members may choose to watch the seminar live over the web at home, or recorded at a later date. Click here or contact a SCFC member service rep at (650) 946-1700 for more information about online access.