Handling an Electrical Failure while IFR in Busy Airspace
December 5, 2020 @ 12:00 pm

-

1:30 pm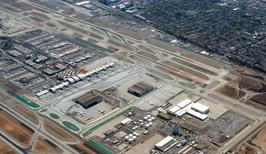 Due to the COVID-19 public health crisis, this seminar will only be available for online viewing. IN-PERSON ATTENDANCE WILL NOT BE PERMITTED.**
Click here to learn more about special sign-in instructions for this seminar

The Los Angeles area is one of the most challenging and diverse airspaces to operate in, in the entire country. Pilots flying around Southern California experience the stress of dealing with busy air traffic controllers, navigating busy airspace, while simultaneously managing the aircraft. Often while operating under such a workload, we do not consider what could happen if we were to experience a systems failure, but if that happens, how would you handle the situation?

San Carlos Flight Center invites Instrument rated pilot David Mackler to recount his flight to Southern California and his encounter with an electrical system failure while IFR. David will describe at what point in his planned route that he encountered the failure and then share his decision making process and how he evaluated the risk posed by the electrical failure. David will also lead this as a case-study discussion and invite you to put yourself in his place, what decisions you would have made and when, how you would have responded, and how it might have turned out differently. Based on this experience, David will describe the changes he made to his flight planning process, and lastly will stress the importance of effective communication with ATC about inflight threats, especially while operating in close vicinity of a presidential TFR in which David also experienced that day.

Flying long distance and in new challenging complex areas can be fun, but it is important to recognize how as pilots we need to prepare for all outcomes, and be ready to handle the unexpected. Join us for a first-hand account of a pilot's viewpoint of a complex situation – and how to make the right decision.
David Mackler is an instrument rated private pilot out of Reid-Hillview and a refugee from the tech industry. He enjoys flying for recreation and occasionally for transportation. Although a late starter to flying, David is working hard to make up for lost time.
San Carlos Flight Center (SCFC) is the SF Bay Area's most dynamic flying club, committed to building general aviation through safety, community, and adventure. AOPA has consistently recognized SCFC in their Best Flight School survey, most recently in 2019 as a Distinguished Flight School.
SCFC is committed to promoting safety in general aviation through our regular safety seminars and guest speaker programs. Space is often limited so it is important to sign up early. SCFC members may choose to watch the seminar live over the web at home, or recorded at a later date. Click here or contact a SCFC member service rep at (650) 946-1700 for more information about online access.