Insights of Preventative Maintanence from an A&P
July 21, 2021 @ 7:00 pm

-

8:30 pm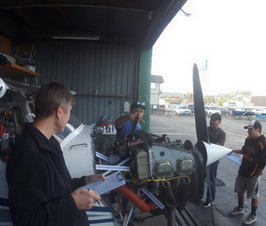 Due to the COVID-19 public health crisis, this seminar will only be available for online viewing. IN-PERSON ATTENDANCE WILL NOT BE PERMITTED.**
Click here to learn more about online viewing.
Preventative Maintenance is often a topic that is confusing for most pilots, including who can perform the work, what work can be done, and how to make it legal. Mechanics work on airplanes daily and are familiar with all types of maintenance, and it's crucial that pilots are aware of how to properly perform preventative maintenance.
San Carlos Flight Center invites A&P Tim Davis to discuss what preventative maintenance actually is, how pilots can actually perform it, and how to do so safely. In this seminar, Tim will discuss what tools you should have and how to use them safely, along with providing example scenarios based around the limitations of preventative maintenance for pilots. Furthermore, Tim will cover the basics of how to perform simple maintenance on aircraft including how to remove and install cowlings, install safety wires and cotter pins, put clamps on hoses, and including the all important logging procedure.
If you have ever wondered about how to perform preventative maintenance, or want to have a strong understanding of 14 CFR 43, this is the seminar for you.
Tim Davis is an aircraft mechanic at San Carlos Flight Center.  A Bay Area native, he worked as a Quality Analyst for Electronic Arts and Blizzard Entertainment before completing aircraft maintenance training at City College of San Francisco and earning his A&P licence shortly after.
San Carlos Flight Center (SCFC) is the SF Bay Area's most dynamic flying club, committed to building general aviation through safety, community, and adventure. AOPA has consistently recognized SCFC in their Best Flight School survey, most recently in 2019 as a Distinguished Flight School.
SCFC is committed to promoting safety in general aviation through our regular safety seminars and guest speaker programs. Livestream access is free for everyone, but recorded seminars are available solely to members at a later date. Click here or contact a SCFC member service rep at (650) 946-1700 for more information about online access to our web archive.