Ground School Refresher: VFR Charts
Wed Apr 5 @ 7:00 pm

-

8:30 pm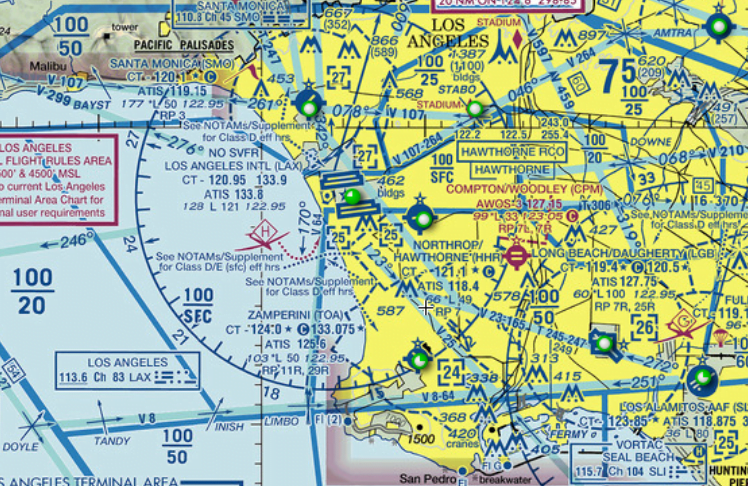 This seminar will only be available for online viewing.
Click here to learn more about online viewing
Interested in learning more about ground-school-related topics? Check out our Ground School Refresher series which covers a wide variety of different topics available in our Members Only Seminar Library. For an example, click here.
VFR charts pack an extraordinary amount of material and represent a 3-dimensional world of terrain and airspaces in 2 dimensions. With such a wealth of information, do you really know how to read them? For example, do you know how to identify where certain VFR reporting waypoints are on a chart? Or can you determine if the airport you are landing at has an operating beacon, pilot controlled lighting, or lighting at all?

San Carlos Flight Center invites CFI Edward Abraham to give pilots a refresher on VFR charts. He will entertain you while educating you about common as well as uncommon VFR charts symbology. In this seminar expect a thorough investigation of these charts, the related symbology, and interesting facts that you could use to impress your friends. Throughout the presentation, Edward will provide many real-life examples and allow the audience to follow-along looking at charts on their own.

While you may know the basics, there is always something new or some little nuance that we didn't realize. All pilots can benefit from a refresher on VFR charts, so join us to refresh your memory and learn more.
Edward Abraham is a CFI at San Carlos Flight Center. A Bay Area native and aviation enthusiast, his passion took flight after graduating from San Jose State University with a degree in business management and a minor in aviation. After graduating, he worked as a Customer Service Supervisor for United Airlines while simultaneously building hours and working towards his advanced ratings at the San Carlos Airport. Edward is excited to be a flight instructor for the San Carlos Flight Center and looks forward to teaching the next generation of pilots.
San Carlos Flight Center (SCFC) is the SF Bay Area's most dynamic flying club, committed to building general aviation through safety, community, and adventure. AOPA has consistently recognized SCFC in their Best Flight School survey, most recently in 2023 as a Distinguished Flight School for the third year in a row.

SCFC is committed to promoting safety in general aviation through our regular safety seminars and guest speaker programs. Livestream access is free for everyone, but recorded seminars are available solely to members at a later date. Click here or contact a SCFC member service rep at (650) 946-1700 for more information about online access to our web library of over 500 recorded safety seminars.