Gaining Confidence in Your Flight Training: The Use of Home Flight Simulators
July 24, 2021 @ 12:00 pm

-

1:30 pm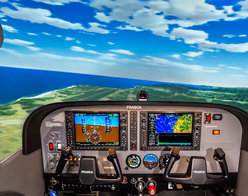 Due to the COVID-19 public health crisis, this seminar will only be available for online viewing. IN-PERSON ATTENDANCE WILL NOT BE PERMITTED.**
Click here to learn more about online viewing.
Most people are used to the idea of school-based flight simulators in flight training, especially for an instrument rating.  But there are many great reasons to take advantage of home-based flight simulators to build confidence and enhance your training.  Flight simulators are easy to use, extremely helpful, and can cater to any situation.

Join Instrument Rated Private Pilot Brandan Dadoun as he shares how using flight simulators has benefitted his piloting career. In this seminar, he will cover the vast amount of flight simulation applications that you can use at home; how to set it up; and how to get the most out of it.  Flight simulation has been around for a long time and has proved extremely helpful for many aspiring to become a better pilot.  Along with flight simulation being an excellent procedural trainer, pilots can also practice their radio skills by talking with real Air Traffic Controllers.  The possibilities are endless.

If you want to become a better pilot, gain confidence, and discover many new things that you might have never known; you do not want to miss this seminar.
Brandan Dadoun is an Instrument Rated Private Pilot and SCFC's Seminar Coordinator. He has completed the majority of his flight training at SCFC with over 300 flight hours and has extensive flying experience throughout all of California in both piston and turbine powered aircraft. He is actively involved within many aviation programs, and is currently pursuing his instrument rating. When he's not flying, he enjoys playing the saxophone and staying active.
San Carlos Flight Center (SCFC) is the SF Bay Area's most dynamic flying club, committed to building general aviation through safety, community, and adventure. AOPA has consistently recognized SCFC in their Best Flight School survey, most recently in 2019 as a Distinguished Flight School.
SCFC is committed to promoting safety in general aviation through our regular safety seminars and guest speaker programs. Livestream access is free for everyone, but recorded seminars are available solely to members at a later date. Click here or contact a SCFC member service rep at (650) 946-1700 for more information about online access to our web archive.