A Deeper Understanding of VA
July 28, 2021 @ 7:00 pm

-

8:30 pm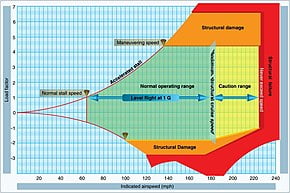 Due to the COVID-19 public health crisis, this seminar will only be available for online viewing. IN-PERSON ATTENDANCE WILL NOT BE PERMITTED.**
Click here to learn more about online viewing.
In this presentation, CFI Michel Vidal-Naquet will discuss the concept of maneuvering speed, VA.  There is a general misconception among pilots that flying at an airspeed below the published maneuvering speed will guarantee aircraft structural integrity under full or abrupt deflection of control surfaces.  This misconception was indeed challenged in the aviation community at large, when an Airbus A300, American Airlines flight 587, crashed into a sub-urban area of New York City following the loss of its tail section, at an airspeed below VA.

Michel will present the high-profile, controversial accident, and will discuss why the misunderstanding Va has been considered a contributing factor to the crash.  He will then delve into the aerodynamic principles and regulation behind the definition of the maneuvering speed, and will go over how maneuvering speed is actually determined by manufacturers and presented in Pilot Operating Handbooks.   Finally, he will show how the proper interpretation of VA will help pilots fly safer.
Michel Vidal-Naquet recently received his flight instructor certificate and has accumulated over 750 flight hours. He started flying in 2013 after settling in the Bay area to work as a computer scientist and engineer.  His passion for aviation began during his early childhood when his family first took him on international flights.  He brings a scientific point of view to his flying, and is always learning.
San Carlos Flight Center (SCFC) is the SF Bay Area's most dynamic flying club, committed to building general aviation through safety, community, and adventure. AOPA has consistently recognized SCFC in their Best Flight School survey, most recently in 2019 as a Distinguished Flight School.
SCFC is committed to promoting safety in general aviation through our regular safety seminars and guest speaker programs. Livestream access is free for everyone, but recorded seminars are available solely to members at a later date. Click here or contact a SCFC member service rep at (650) 946-1700 for more information about online access to our web archive.