G1000 System Design and Failure Analysis
May 22, 2021 @ 12:00 pm

-

1:30 pm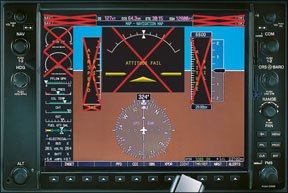 Due to the COVID-19 public health crisis, this seminar will only be available for online viewing. IN-PERSON ATTENDANCE WILL NOT BE PERMITTED.**
Click here to learn more about online viewing.
A Garmin G1000 system consists of many electronic units, most of them remotely located and invisible. Except for the displays, we are aware of them only when perusing the Pilot's Guide. What do the individual components do? And how can a pilot detect when they go wrong?

San Carlos Flight Center invites CFI Brian Eliot to investigate the allocation of G1000 functions to specific units, how these units provide for redundancy, and how the pilot can monitor and diagnose problems when they occur, to make an informed decision to continue or to terminate a flight. In this seminar, Brain will provide realistic scenarios in which these potential errors could occur, and how to handle them if one arises.

The info pertinent within this seminar can be of interest to pilots of any experience level, both VFR and IFR. Join us to be more cognizant of your G1000 system.
Brian Eliot is San Carlos Flight Center's Assistant Chief Pilot and resident expert for IFR training and Garmin G1000 avionics. He has been flying since 1995 and received all his training in the Bay Area. Brian previously worked as a broadcast engineer, a software developer, and taught computer science at both the undergraduate and graduate levels. He regularly presents at San Carlos Flight Center safety seminars and has a reputation for making complex concepts easy to learn and understand.
San Carlos Flight Center (SCFC) is the SF Bay Area's most dynamic flying club, committed to building general aviation through safety, community, and adventure. AOPA has consistently recognized SCFC in their Best Flight School survey, most recently in 2019 as a Distinguished Flight School.
SCFC is committed to promoting safety in general aviation through our regular safety seminars and guest speaker programs. Space is often limited so it is important to sign up early. SCFC members may choose to watch the seminar live over the web at home, or recorded at a later date. Click here or contact a SCFC member service rep at (650) 946-1700 for more information about online access.