Destination California Coast – San Luis Obispo and Oceano
May 19, 2021 @ 7:00 pm

-

8:30 pm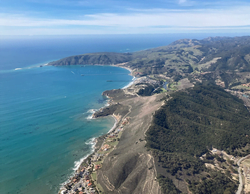 Due to the COVID-19 public health crisis, this seminar will only be available for online viewing. IN-PERSON ATTENDANCE WILL NOT BE PERMITTED.**
Click here to learn more about online viewing.
Pilots often embark on long cross country flights to build cross-country time or to travel to a compelling destination with family or friends; San Luis Obispo and Oceano offer just that. With the beach within walking distance, tasty cuisine nearby, and plenty of aeronautical challenges along the way, this is surely a place you will want to visit.

San Carlos Flight Center invites Private Pilots Brandan Dadoun and Kate Korolevskaya to highlight their experiences flying into San Luis Obispo (SBP) and Oceano (L52). As part of our regular Destination Series seminars, this seminar will identify common routes from the San Francisco Bay Area, highlight Special Use Airspaces (SUAs) along these routes, point out local airport operations and review the typical weather patterns. This region has two different airports to cater to all pilots and aircraft: SBP offers larger runways, with more on-site FBOs, whereas L52 has a smaller runway, with great beach access. Pilots who choose these destinations will not be disappointed with the outdoor adventures, and gorgeous vistas that await.

A new destination brings a new challenge, and as pilots it's our responsibility to become familiar with all aspects of our flight. Join us for an opportunity to learn more about this compelling destination, and start planning for your getaway now.
Brandan Dadoun is a Private Pilot and SCFC's Seminar Coordinator. He has completed the majority of his flight training at SCFC with over 200 flight hours and has extensive flying experience throughout all of California in both piston and turbine powered aircraft. He is actively involved within many aviation programs, and is currently pursuing his instrument rating. When he's not flying, he enjoys playing the saxophone and staying active.
Kate Korolevskaya is a Private Pilot with over 100 flight hours, and a recipient of the 2020 Upwind Summer Scholarship. Currently working towards her Instrument Rating, she is eager to explore airports all over California, and share her love for aviation with others. Outside of aviation, she can be found buried in homework from her college classes, or out hiking with her friends and family.
San Carlos Flight Center (SCFC) is the SF Bay Area's most dynamic flying club, committed to building general aviation through safety, community, and adventure. AOPA has consistently recognized SCFC in their Best Flight School survey, most recently in 2019 as a Distinguished Flight School.
SCFC is committed to promoting safety in general aviation through our regular safety seminars and guest speaker programs. Space is often limited so it is important to sign up early. SCFC members may choose to watch the seminar live over the web at home, or recorded at a later date. Click here or contact a SCFC member service rep at (650) 946-1700 for more information about online access.