Flying the San Diego "Bay Tour"
March 26, 2022 @ 12:00 pm

-

1:30 pm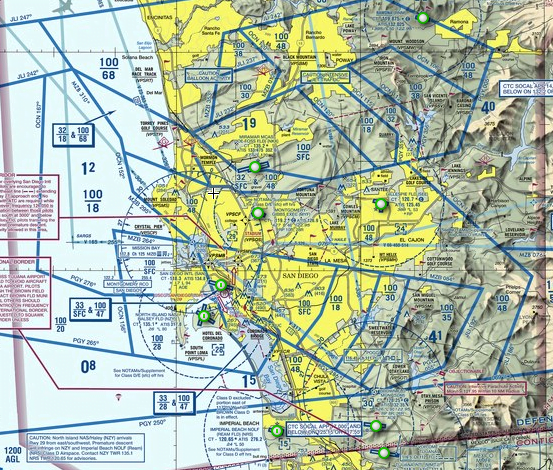 Despite what you learn on Day 1 of Private Pilot Ground School, not every Class B airspace is shaped like concentric circles increasing with altitude (i.e., "upside down wedding cake"). Each Class B takes on special shapes and operating rules to protect the flight paths going to and from the anchor Class B airport it protects. Learning to navigate Class B airspace safely requires a study of local landmarks and procedures.
San Diego's Class B environment is a perfect example, with 2 Class B airports in close proximity – San Diego International and Miramar Marine Corps Air Station. Two anchor airports means two Class B surface areas each with its unique shape and commingled Class B airspaces above. VFR pilots enjoying San Diego's mountain and ocean views need to be very aware of VFR transitions through Class B surface areas, and the VFR corridors with operational rules.
San Carlos Flight Center has invited CFI Ryan Sartor to share his experiences with flying San Diego's equivalent of a "Bay Tour", VFR sightseeing through busy Class B and surrounding airspaces. If you are considering taking a weekend trip down to San Diego, this will be your headstart to learning to safely navigate the airspace and let yourself and your passengers enjoy the views without conflicts with other aircraft or flight operations.
Ryan will also share his visitor information for the area, so this can help you know which airports to fly into, what tourists areas are nearby, and even what restaurants are on the field at each airport.  Join us for this insider's guide to what a visiting pilot can do in San Diego. 
Ryan Sartor is SCFC's newest full-time CFI, recently relocated from San Diego.  After navigating the San Diego and Los Angeles airspace for over three years, he decided it was time to challenge himself and move to the San Francisco Bay Area where he is settling in just fine. With about 500 hours of dual instruction time given, Ryan is continuously striving to grow as a pilot, instructor, and a mentor for his students.
San Carlos Flight Center (SCFC) is the SF Bay Area's most dynamic flying club, committed to building general aviation through safety, community, and adventure. AOPA has consistently recognized SCFC in their Best Flight School survey, most recently in 2019 as a Distinguished Flight School.
SCFC is committed to promoting safety in general aviation through our regular safety seminars and guest speaker programs. Livestream access is free for everyone, but recorded seminars are available solely to members at a later date. Click here or contact a SCFC member service rep at (650) 946-1700 for more information about online access to our web archive.