Challenges Flying to Oshkosh
Sat May 13 @ 12:00 pm

-

1:30 pm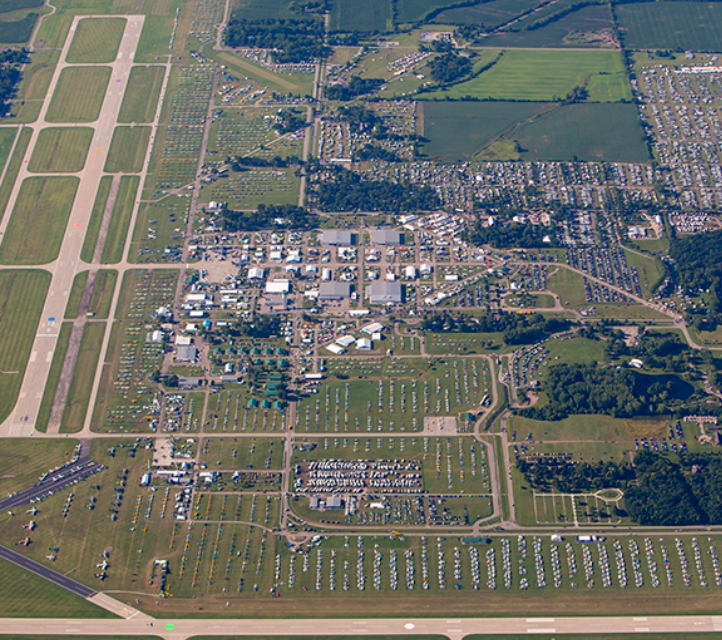 This seminar will be held in-person at SCFC, attendance is free and open to all. Web Members will still be able to access our seminars online, both live and recorded. Click here to learn more about the transition.
Interested in more seminars related to long cross-country trips and flight planning? Check out our series of flight planning presentations available in our Members Only Seminar Library. Click here for an example.
Each year, EAA holds the world's most renowned airshow in Oshkosh. This event boasts thousands of unique aircraft, presenters, and new learning experiences.  Ambitious pilots may consider flying themselves to the show. If it's your first time, you may wonder what it takes to create a flight plan across the country, to fly one of the most challenging arrival procedures, and most importantly to land safely?

San Carlos Flight Center invites Oliver Coolidge, an experienced Oshkosh Pilot and CFI, and Private Pilot Obed Han to talk about how to fly safely and efficiently into the "world's busiest airport". For one week each summer, EAA members and aviation enthusiasts totaling more than 500,000 from more than 60 countries attend EAA AirVenture at Wittman Regional Airport in Oshkosh, Wisconsin, where they rekindle friendships and celebrate the past, present and future in the world of flight. "The World's Greatest Aviation Celebration " has it all when it comes to aircraft, you certainly won't want to miss out. For many, arriving at Oshkosh is a rite of passage that can only be satisfied by being one of the more than 10,000 aircraft flying in, landing at what becomes the busiest airport in the world. It can be a challenging experience, but after attending this seminar, we are sure that you will feel more confident in your flying abilities.

Whether you're an aviation enthusiast or an aviation novice, AirVenture has something for you.  Don't miss out on this opportunity to learn more about this event, and more importantly learn how you can safely and efficiently plan flight across the country, and arrive at Oshkosh. Experience AirVenture with us. Your spot along the flightline is waiting for you.
Oliver Coolidge started flying in 1969 and is a retired FedEx captain with over 14,000 hours of flying. He owns a vintage 1954 Cessna 195 and has a new project with a 1971 Beechcraft Bonanza G33 "straight tail". He also is involved with the Flying 12 Club which has built their own RV-12. Chapter 20 was recently the recipient of an EAA Ray Aviation Scholarship which has awarded a $10,000 flying scholarship to a local young aviator.

Obed Han is a Private Pilot. He is an EAA James Ray Scholarship recipient and continues to advance in his training because of it. He is also involved within numerous aviation programs, including co-founding the local EAA Chapter's Young Aviators program, participating in the RV-12 build, and volunteering as a mentor for VATSIM, virtually controlling airplanes across the Bay Area and training other ATC candidates.

San Carlos Flight Center (SCFC) is the SF Bay Area's most dynamic flying club, committed to building general aviation through safety, community, and adventure. AOPA has consistently recognized SCFC in their Best Flight School survey, most recently in 2023 as a Distinguished Flight School for the third year in a row.

SCFC is committed to promoting safety in general aviation through our regular safety seminars and guest speaker programs. Our seminars are free to watch when attended in person at our facility in San Carlos but live streaming and viewing recorded seminars are exclusively available to members. Click here or contact an SCFC member service rep at (650) 946-1700 for more information about online access to our web library of over 500 recorded safety seminars and live-streamed content.