5-Day Colorado Mountain Training Trip
July 6, 2022

-

July 10, 2022
Each year an armada of 182s departs the Bay Area bound for a fun and amazing mountain flying adventure! This year we head back to Colorado for some awesome Rocky Mountain flying. We will take the southern route through Arizona, landing at the KSEZ for an overnight stay in Sedona. Day two we journey into the heart of the Rockies for a two-night stay in Eagle, Colorado, our home base for mountain flying. Eagle is situated among the best mountain passes and 40 NM Northwest of the famous Leadville Airport, North America's highest airport at 9927′. Day Four we overfly the Grand Canyon en route to Las Vegas. The trip is a great opportunity to master advanced avionics, get an airplane-specific checkout and earn your high-performance endorsement. Each plane will have 1 CFI and 2 pilots on board. With two pilots per CFI and aircraft, the daily rate is halved between you and whomever you fly with to get mountain flying experience.
It promises to be an unforgettable flying adventure with plenty of room for ground-based fun as well.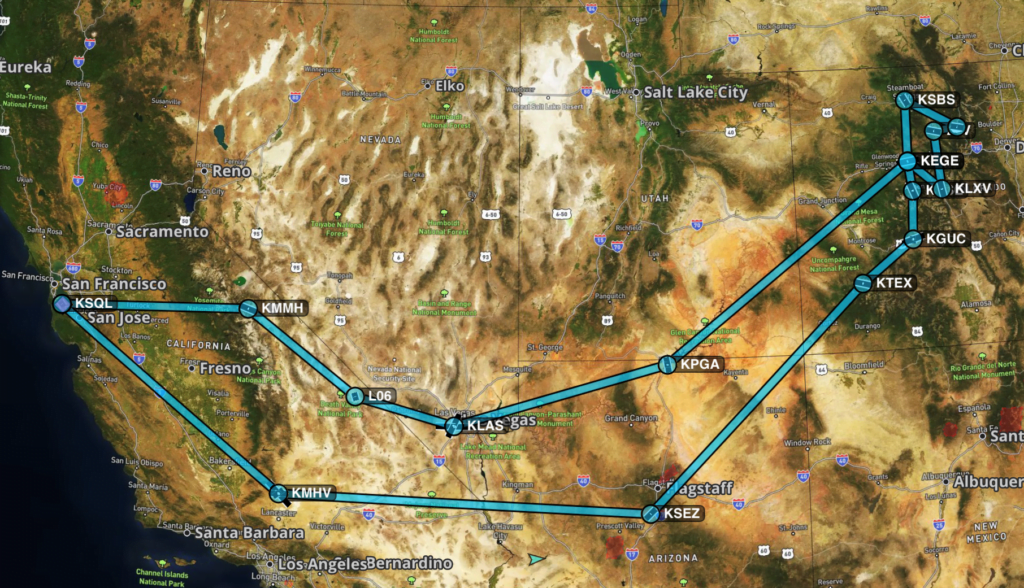 The trip is billed by SCFC at aircraft Hobbs time and instructor daily rate. The costs below is per person and assumes 2 people sharing airplane and CFI costs.
CFI: 2.5 daily rates @ $665/day = $1657.50
Airplane: 12 Hobbs hours @ $245/hr = $2940
Lodging: 4 nights @ $165/night = $660
Rental car: 2 nights @ $150/night = $300
Estimated total cost: $5,563 (excludes food, incidentals, ride-share at destinations without rental cars, etc.)
Contact the SCFC Chief Pilot team (chiefpilot@sancarlosflight.com) to express interest in and sign up for the trip.