How to Ace your Flight Review
Wed Nov 29 @ 7:00 pm

-

8:30 pm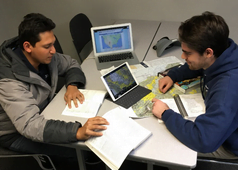 This seminar will be held in person at SCFC, attendance is free and open to all. Web Members will still be able to access our seminars online, both live and recorded. Click here to learn more about the transition.
Interested in watching more of our presentations? View our growing library of over 500 recorded safety seminars available to view in our Members Only Seminar Library, available by clicking here.
Is it that time again? Need to do a Flight Review but don't want to sweat through the details? Do you really need to remember how the E6B works? Perform flight calculations by hand? State FAR verbiage from memory? Can you name the various VFR weather minimums? 
CFI Dave Brenner will unravel what it takes to make your next Flight Review a walk in the park! This seminar will cover how to prepare for your Flight Review, the three ways to meet legal requirements for completing a flight review, when a Flight Review is required, and the standards you must demonstrate for the knowledge, risks and skills to complete a Flight Review. 
The majority of pilots will need to do a Flight Review many times over the course of a lifetime of flying. Join us and be ready to tackle your next Flight Review.
Dave Brenner, CFI, is a flight instructor at San Carlos Flight Center. His experience as a teacher and passion for aviation led him to become a flight instructor. Dave is recognized for his teaching abilities and enjoys making sure that his students are well-prepared for their aviation adventures.
San Carlos Flight Center (SCFC) is the SF Bay Area's most dynamic flying club, committed to building general aviation through safety, community, and adventure. AOPA has consistently recognized SCFC in their Best Flight School survey, most recently in 2023 as a Distinguished Flight School for the third year in a row.
SCFC is committed to promoting safety in general aviation through our regular safety seminars and guest speaker programs. Our seminars are free to watch when attended in person at our facility in San Carlos but live streaming and viewing recorded seminars are exclusively available to members. Click here or contact an SCFC member service rep at (650) 946-1700 for more information about online access to our web library of over 500 recorded safety seminars and live-streamed content.