Winter Flying
September 5, 2020 @ 12:00 pm

-

1:30 pm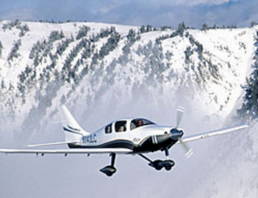 *Due to the COVID-19 public health crisis, this seminar will only be available for online viewing. IN-PERSON ATTENDANCE WILL NOT BE PERMITTED.**
Click here to learn more about online viewing.

For pilots that learn to fly in states like California, Arizona, or Florida, flying on days when weather is below freezing may never occur.  While this might not be a topic you expect to experience, you may one day fly a winter cross country to somewhere like Colorado or Montana to make the most of the improved performance that comes with cold weather.

San Carlos Flight Center invites CFI Lukasz Zoromski to share his experiences with winter flying in Wisconsin, his home state.  In this seminar, he will discuss pre-flight planning and procedures that you may need to perform during the winter, such as careful consideration of the freezing level and how to properly remove frost and ice from your aircraft.  He will also go over how to keep you and your passengers safe and comfortable in the cockpit during flight, and how to respond to potential in-flight emergencies related to icing.  Finally, he will discuss the additional steps that must be taken after your flight to ensure that your airplane is ready to go for the next winter flight.

If you are looking to be more prepared on your next winter flight, don't miss out on this seminar.
Lukasz Zoromski has always been interested in aviation. Ever since going to Oshkosh Airventure as a kid, he got hooked on airplanes. After graduating from the University of Wisconsin, he decided to make a career change away from a desk job and began flying with a goal to become a flight instructor. Now that he has achieved that goal, he strives to help new pilots achieve the same goals in a safe and fun way. New to the Bay Area, he is looking forward to flying in a new environment and meeting new people.
San Carlos Flight Center (SCFC) is the SF Bay Area's most dynamic flying club, committed to building general aviation through safety, community, and adventure. AOPA has consistently recognized SCFC in their Best Flight School survey, most recently in 2019 as a Distinguished Flight School.
SCFC is committed to promoting safety in general aviation through our regular safety seminars and guest speaker programs. Space is often limited so it is important to sign up early. SCFC members may choose to watch the seminar live over the web at home, or recorded at a later date. Click here or contact a SCFC member service rep at (650) 946-1700 for more information about online access.