Dont Be an Airhead, How to Handle Tire Failures
September 2, 2020 @ 7:00 pm

-

8:30 pm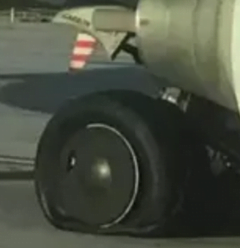 *Due to the COVID-19 public health crisis, this seminar will only be available for online viewing. IN-PERSON ATTENDANCE WILL NOT BE PERMITTED.**
Click here to learn more about online viewing.
You're on final approach, stable approach and ready to be home after your flight.  You touch down softly on the mains and as you lower the nose wheel you experience a distinct shuttering.  Or maybe after your touchdown you notice your plane starts skidding in the opposite direction.  What could've happened? Seems like you blew a tire, now what?

San Carlos Flight Center invites Chief Pilot and AGI Herb Patten, and seasoned pilot Alessandro Franco to discuss options after landing with a blown tire. In this seminar, they will discuss how their own experiences of landing with a blown tire can teach others about how to handle the unexpected. There are many options a pilot can choose: try and exit the runway and make it back to parking, clear the runway, or stop on the runway and request assistance. What is the best option?

If you want to understand how to handle this situation without becoming deflated, join us for this seminar.
Herb Patten is the Chief Pilot at the San Carlos Flight Center, a CFI and an FAA certificated advanced and instrument ground instructor who teaches private pilot ground school at San Carlos Flight Center.  He is a commercial pilot with an instrument rating, has flown over 1,500 hours into at least 120 different California airports.  He is the current chairman of the Upwind Foundation, famous for its Upwind Summer Scholarship Program. In 2015, Herb was named a Master Instructor by the National Association of Flight Instructors.

Alessandro Franco is a Private Pilot and the Director of Operations at the San Carlos Flight Center. Alessandro was a recipient of the Upwind Summer Scholarship and has done all of his flight training at San Carlos Flight Center, including his training towards his Instrument Rating, which he is almost finished with.
San Carlos Flight Center (SCFC) is the SF Bay Area's most dynamic flying club, committed to building general aviation through safety, community, and adventure. AOPA has consistently recognized SCFC in their Best Flight School survey, most recently in 2019 as a Distinguished Flight School.
SCFC is committed to promoting safety in general aviation through our regular safety seminars and guest speaker programs. Space is often limited so it is important to sign up early. SCFC members may choose to watch the seminar live over the web at home, or recorded at a later date. Click here or contact a SCFC member service rep at (650) 946-1700 for more information about online access.