Threat and Error Management
November 4, 2020 @ 7:00 pm

-

8:30 pm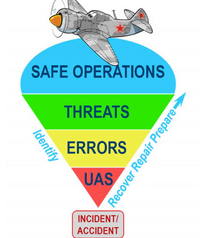 Due to the COVID-19 public health crisis, this seminar will only be available for online viewing. IN-PERSON ATTENDANCE WILL NOT BE PERMITTED.**
Click here to learn more about online viewing.
Threat and Error Management (TEM) is an overarching safety management approach that assumes that pilots will naturally make mistakes and encounter risky situations during flight operations. Airlines have used Crew Resource Management (CRM) and Threat and Error Management (TEM) programs to dramatically reduce the number of accidents and incidents due to human error.

San Carlos Flight Center has invited Ross Ferguson, an airline pilot and flight instructor with more than 25 years of experience, to share tips for a general aviation audience. In his presentation, Ross will describe ways that these skills can be used by pilots even if they are not flying for the airlines. Ross will highlight general aviation safety record, TEM skills, situational awareness, and the startle effect. The presentation will culminate with a short case study involving a Cessna 172.

Don't miss out on this presentation if you want to become a safer and more attentive pilot.
Ross Ferguson, CFI. Ross has been a Certified Flight Instructor (CFI) and Airline Pilot for more than 25 years. He has flown aircraft ranging from Ultralights to transport aircraft including many Airbus and Boeing jets. Ross has owned and operated his own aircraft and is currently a member of the US Yak-52 Aerobatic Team.
San Carlos Flight Center (SCFC) is the SF Bay Area's most dynamic flying club, committed to building general aviation through safety, community, and adventure. AOPA has consistently recognized SCFC in their Best Flight School survey, most recently in 2019 as a Distinguished Flight School.
SCFC is committed to promoting safety in general aviation through our regular safety seminars and guest speaker programs. Space is often limited so it is important to sign up early. SCFC members may choose to watch the seminar live over the web at home, or recorded at a later date. Click here or contact a SCFC member service rep at (650) 946-1700 for more information about online access.