Destination Nut Tree Vacaville (VCB)
November 7, 2020 @ 12:00 pm

-

1:30 pm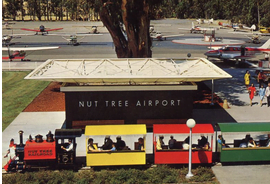 Due to the COVID-19 public health crisis, this seminar will only be available for online viewing. IN-PERSON ATTENDANCE WILL NOT BE PERMITTED.**
Click here to learn more about online viewing.
Nut Tree Airport is the gateway to a fun, and memorable day in Vacaville. If you are a fan of great ice cream, cuisine, or shopping this is the destination for you. It is only a short cross-country trip away from the Bay Area.
San Carlos Flight Center invites student pilot Brandan Dadoun to discuss what pilots need to know when flying into the Nut Tree Airport. He will include insights about operating within close vicinity of Travis Air Force Base, a highly active alert area conducting hundreds of military operations daily; along with how to safely operate at the Nut Tree Airport. He'll cover the different entry/exit procedures to which pilots must follow while operating at VCB, noise abatement procedures, airport lighting, and general operations at a non-towered airport. He will also highlight the importance of flight following allowing for seamless transit and traffic advisories across the active alert area. Lastly, Brandan will also talk about what to do after landing at Nut Tree including airport amenities, aircraft parking, restaurants, and access to the shopping outlets.
Join us to learn more about this easy-to-access, quick day trip from the Bay Area, all while enjoying splendid food, and splurging on your best attire.
Brandan Dadoun is a student pilot solo and SCFC's Seminar Coordinator. He has completed the majority of his flight training at SCFC with over 100 flight hours.  He is an advocate for getting youth involved in aviation and is actively involved in many aviation programs.  He is an active volunteer at the Hiller Aviation Museum, and has ventured extensively throughout California. Brandan loves teaching others when he is not flying himself.
San Carlos Flight Center (SCFC) is the SF Bay Area's most dynamic flying club, committed to building general aviation through safety, community, and adventure. AOPA has consistently recognized SCFC in their Best Flight School survey, most recently in 2019 as a Distinguished Flight School.
SCFC is committed to promoting safety in general aviation through our regular safety seminars and guest speaker programs. Space is often limited so it is important to sign up early. SCFC members may choose to watch the seminar live over the web at home, or recorded at a later date. Click here or contact a SCFC member service rep at (650) 946-1700 for more information about online access.