In-Flight Vigilance: Stall Spins and Weather Product Awareness – CANCELLED
Wed Jul 26 @ 7:00 pm

-

8:30 pm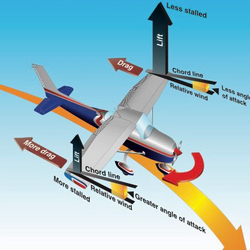 This seminar has been cancelled due to a last minute presenter cancellation. Please tune into our next seminar on Saturday, July 29.
This seminar will be held in person at SCFC, attendance is free and open to all. For this seminar the presenter is unable to present in person, instead, he will present virtually to in-person audiences in our classroom. Web Members will still be able to access our seminars online, both live and recorded. Click here to learn more about the transition.
Interested in watching more of our presentations? View our growing library of over 500 recorded safety seminars available to view in our Members Only Seminar Library, available by clicking here.
As pilots, we need to be aware of ourselves, aircraft, and things happening around us during every phase of flight. Throughout training, pilots are drilled into a variety of different areas. Notably, pilots must safely analyze weather products and stay vigilant in stall and spin awareness. While pilots are taught these things in primary training, why do these two factors contribute to nearly 25% of all fatal accidents?

San Carlos Flight Center invites Dr. David Strahle, CFI-AI and national spokesperson to talk about what he believes is the true reason behind the majority of these accidents and how to re-direct future training efforts towards reducing these fatal events. Over the years Dr. Strahle has seen accidents caused by these factors and how they could have easily been prevented. This discussion will revolve around recently identified negative changes to the color representation of NEXRAD images and how to deal with this setback affecting both your iPad and panel mounted systems. He'll also cover the true reason behind the occurrence of stall and spin accidents. He will conclude how government investigative agencies may have inadvertently steered attention away from the actual factors contributing to these accidents and how we can prevent these accidents from happening again.

Join us if you are a pilot who is looking to get back into flying with safety in mind. This will also be of interest for those wanting to learn more about weather products, aerodynamics, stalls, spins and recovery procedures. If you are eager to learn beyond what is covered in the Pilots Handbook of Aeronautical Knowledge you will appreciate David's approach to these topics.
Dr. David Strahle is a CFI and Commercial Pilot, and is a nationally recognized spokesperson who has educated thousands on a variety of different aviation topics. Mainly, he has been referred to as the "Father of Datalink", as Dr. Strahle wrote the initial research papers on transmitting weather into the cockpit in 1969 and continues to provide ongoing assistance in the development of datalink.
San Carlos Flight Center (SCFC) is the SF Bay Area's most dynamic flying club, committed to building general aviation through safety, community, and adventure. AOPA has consistently recognized SCFC in their Best Flight School survey, most recently in 2023 as a Distinguished Flight School for the third year in a row.

SCFC is committed to promoting safety in general aviation through our regular safety seminars and guest speaker programs. Our seminars are free to watch when attended in person at our facility in San Carlos but live streaming and viewing recorded seminars are exclusively available to members. Click here or contact an SCFC member service rep at (650) 946-1700 for more information about online access to our web library of over 500 recorded safety seminars and live-streamed content.