IFR Distilled – The Essence of IFR Flight
August 15, 2020 @ 12:00 pm

-

1:30 pm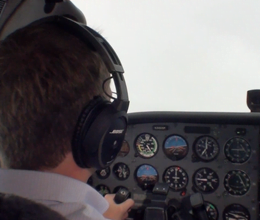 **Due to the COVID-19 public health crisis, this seminar will only be available for online viewing. IN-PERSON ATTENDANCE WILL NOT BE PERMITTED.**
Click here to learn more about online viewing.
IFR flying involves juggling many tasks: precise navigation, controlling the aircraft by use of the instruments, managing automation, interpreting and following arrival, approach or departure procedures, communicating and complying with ATC instructions to mention a few.  In some phases of flights things can happen very fast.  It is critical to  stay ahead of the airplane while flying IFR.  Pilots can be overwhelmed at times flying under IFR, but can it be simplified into a few simple checklists and memory aids.

San Carlos Flight Center invites Dave Kramer, an AGI and commercial pilot who will distill IFR flying down to a few checklists that can be easily memorized and can serve as a basis for IFR flights in many types of airplanes.  Having a solid foundation of frequently used procedures during instrument flying can be helpful to a pilot.  Flying in instrument conditions is already stressful enough and Dave will show how using these checklists can help an IFR pilot ease the workload and minimize the stress.

Join us for this seminar and Dave will discuss some of the different ways one might relieve the stress while flying IMC.
Dave Kramer MD, an ophthalmologist for over 30 years, is an instrument-rated, tailwheel, complex and high performance endorsed commercial MEL pilot as well as a basic and instrument ground instructor with an interest in weather. He has been flying since 2012, has over 1100 hours of which over 500 have been in the IFR system.  He also enjoys long cross country flying, night flying and flying in the LA area.
San Carlos Flight Center (SCFC) is the SF Bay Area's most dynamic flying club, committed to building general aviation thought safety, community, and adventure. AOPA has consistently recognized SCFC in their Best Flight School survey, most recently in 2019 as a Distinguished Flight School.
SCFC is committed to promoting safety in general aviation through our regular safety seminars and guest speaker programs. Space is often limited so it is important to sign up early. SCFC members may choose to watch the seminar live over the web at home, or recorded at a later date. Click here or contact a SCFC member service rep at (650) 946-1700 for more information about online access.