How Can I Get the Most Out of My Engine? A Deep Study of Engine Performance.
October 28, 2020 @ 7:00 pm

-

8:30 pm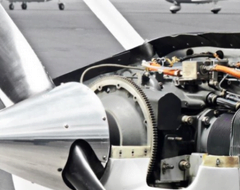 Due to the COVID-19 public health crisis, this seminar will only be available for online viewing. IN-PERSON ATTENDANCE WILL NOT BE PERMITTED.**
Click here to learn more about online viewing.
Finding an altitude for best engine performance can be tiresome and time consuming if you don't know how to get the most out of your engine. Each manufacturer provides performance numbers and guidelines on how to operate their engines. The terms "Economy Cruise" or "Best Power"  are often used by the manufacturer, but what is the best you could get out of your engine? What really is BHP? What's the stoichiometric ratio, and how can you make sense of all of their information?

San Carlos Flight Center invites CFI and physicist Stephen Heesacker to delve into how engines work, why their performance varies with altitude, and explore the POH's from Cessna 152's, 172's, and 182's. In this seminar, Stephen will investigate the meaning of common questions on a cross-country flight such as; what is the best propellor setting and why? What is BHP and how does that actually affect my flight? Why can't I find the reasoning behind this information in the POH? How does the stoichiometric ratio make a difference when it comes to finding best power vs. best economy? Luckily, through the eyes of a CFI and physicist, these questions, along with many more will be answered.

Join us to learn how you can impress your CFI on your next flight by understanding why engine manufacturers put out this information, how to make sense of it, finding the best altitude for engine performance, and get the most out of your engine.
Stephen Heesacker is a flight instructor at San Carlos Flight Center. For Stephen, flying has always been a joy. He has a degree in Physics and Aeronautics at San Jose State University and has competed on the San Jose Precision Flight Team and United States Precision Flight Team. Find out more about Stephen at www.sancarlosflight.com or contact him at stephen@sancarlosflight.com.
San Carlos Flight Center (SCFC) is the SF Bay Area's most dynamic flying club, committed to building general aviation through safety, community, and adventure. AOPA has consistently recognized SCFC in their Best Flight School survey, most recently in 2019 as a Distinguished Flight School.
SCFC is committed to promoting safety in general aviation through our regular safety seminars and guest speaker programs. Space is often limited so it is important to sign up early. SCFC members may choose to watch the seminar live over the web at home, or recorded at a later date. Click here or contact a SCFC member service rep at (650) 946-1700 for more information about online access.