Effective Use of the PAVE Checklist for Flight Planning and Checkrides
October 24, 2020 @ 12:00 pm

-

1:30 pm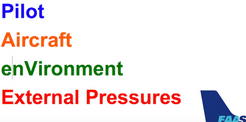 Due to the COVID-19 public health crisis, this seminar will only be available for online viewing. IN-PERSON ATTENDANCE WILL NOT BE PERMITTED.**
Click here to learn more about online viewing.
The PAVE Checklist has long been promoted by the FAA as a primary tool for risk management during flight planning. But have you ever thought it could double as a guide to your (or your students') checkride oral?

San Carlos Flight Center invites ATP/CFI Daniel Stellini to discuss the effectiveness of the PAVE checklist, and how it can be used successfully for flight operations and as a guide to your checkride. This seminar will go beyond PAVE as a simple acronym by presenting it in a highly useful format for all pilots. The normal PAVE checklist ensures a pilot can mitigate risks, and has gathered all information regarding the flight. In this new way of approaching the PAVE checklist, you will learn how it's an effective tool for planning, learning, or preparing for a checkride.

Whether you're a veteran pilot, a student preparing for any checkride, or an instructor, the PAVE checklist (presented in this new way) can make you a better pilot.
Daniel Stellini is a CFII and an airline pilot with extensive experience from Cessnas to Airbus A320's. He is committed to developing safe and competent pilots, and is a Gold Seal Flight Instructor. In his freetime, he likes playing music, and teaching others how to become better pilots.
San Carlos Flight Center (SCFC) is the SF Bay Area's most dynamic flying club, committed to building general aviation through safety, community, and adventure. AOPA has consistently recognized SCFC in their Best Flight School survey, most recently in 2019 as a Distinguished Flight School.
SCFC is committed to promoting safety in general aviation through our regular safety seminars and guest speaker programs. Space is often limited so it is important to sign up early. SCFC members may choose to watch the seminar live over the web at home, or recorded at a later date. Click here or contact a SCFC member service rep at (650) 946-1700 for more information about online access.