Ground School Refresher: Flight Instruments
May 4, 2022 @ 7:00 pm

-

8:30 pm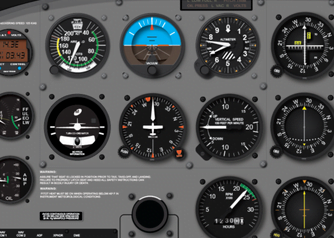 This seminar will only be available for online viewing. IN-PERSON ATTENDANCE WILL NOT BE PERMITTED.**
Click here to learn more about online viewing
When pilots first start flying, they learn enough of the basic flight instruments to read and interpret them in flight. You have learned a bit more, but it may have been a while. In this Ground School Refresher, we'll take a new and fresh look at the fundamental flight instruments, pushing maybe a little deeper than you did as a student. Join us for a review and maybe even to learn something new.

Can you answer these questions? What math is done to calculate altitude in a pressure altimeter? What is the formula used by the airspeed indicator? How can understanding the pitot-static instruments from a mathematical perspective help you troubleshoot instrument failures and faulty readings? Why the heck does the magnetic compass read incorrectly in banking turns? Why doesn't the heading indicator tumble? In this safety seminar, an experienced SCFC CFI will answer all of these questions, along with any others you may have.

It is important for every pilot to have an understanding of their flight instruments, as many pilots rely on them throughout their flights. Join us to learn, review, or polish your knowledge on this important topic.
Collin Korey aspired to be a restaurateur until a thought during an airline flight in Europe formed in his head; "This flying stuff is great, I wonder if I could do it for a living." Thus, on the day after graduating from Northern Arizona University with a bachelor's in Hotel & Restaurant Management, he took a discovery flight at the nearby Flagstaff Pulliam airport, and, an hour later, a new career path was paved. After earning his certificates and ratings in Arizona, Collin continued working as an instructor for about a year before moving to San Carlos in 2021 to search for more clouds and cooler weather.
San Carlos Flight Center (SCFC) is the SF Bay Area's most dynamic flying club, committed to building general aviation through safety, community, and adventure. AOPA has consistently recognized SCFC in their Best Flight School survey, most recently in 2022 as a Distinguished Flight School.

SCFC is committed to promoting safety in general aviation through our regular safety seminars and guest speaker programs. Livestream access is free for everyone, but recorded seminars are available solely to members at a later date. Click here or contact a SCFC member service rep at (650) 946-1700 for more information about online access to our web archive.