FOG Shelter Cove Getaway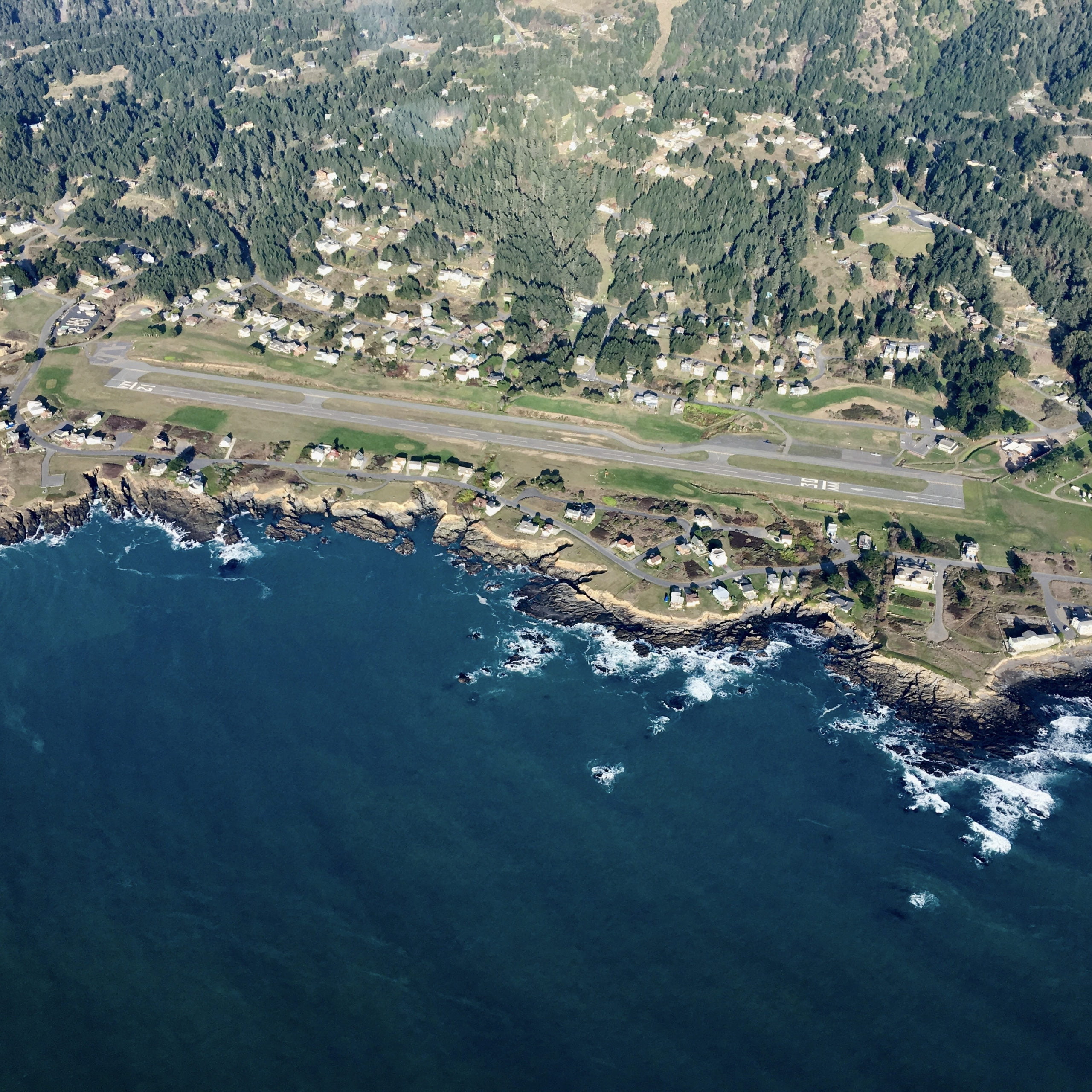 Note: In the event of poor weather at Shelter Cove, FOG's alternate destination will be Oceano (L52).
Perhaps the most remote and hidden airport in California, Shelter Cove (0Q5) is a small outcropping with cliffs on one side of the town, and the Pacific Ocean on the other three sides. Located many miles off a major highway and far from any urban center, Shelter Cove offers peace, relaxation, and serenity for those who travel here.
What would be a five-hour drive can be accomplished with an easy flight from the Bay Area. Follow the coastline after overflying the Golden Gate Bridge, bypassing small airports like Ocean Ridge and Little River, and then descend towards Shelter Cove, which will appear like an aircraft carrier off your nose. As one gets closer, the shoreline cliffs will be taller than your airplane, and don't get distracted by the crashing waves on short final. After landing, park on the southern side of the airport and enjoy the ocean sounds and the fresh smell of the nearby forest.
Shelter Cove is walkable, so we'll first grab lunch as a group at The Fish Tank before exploring the local area. North of the airport are black sand beaches, and we can hike alongside them. Take in the views while enjoying the sunshine and sea breeze. Some may appreciate the many tide pools, where an abundance of small creatures can be seen at low tide. Or bring some golf clubs and play a round of golf at the course right between the airport and the ocean!
Pilots may elect to stay overnight if they wish. Local hotels such as the Inn of the Lost Coast, Castle Inn, Spyglass Inn, and even airport camping are present. Multiple restaurants are open for dinner, as well.
Reminders:
Shelter Cove does not have any fuel or oil service on the field, so please plan your flight accordingly by bringing enough fuel and oil to arrive and depart. Many nearby airports have fuel as well, including Garberville (O16), Little River (LLR), and Santa Rosa (STS).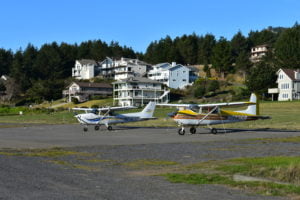 The airport also does not have any instrument approaches or departures, nor is lit at night. While we can hope for VFR weather, we'll monitor the weather and communicate plans accordingly. The airport does not have an AWOS system, but nearby Garberville does. One can also view the local webcam to get an idea of cloud coverage.
Finally, please plan to bring extra chocks and/or ropes for securing your aircraft. There may be some ropes at the airport, but there is no guarantee. If you're flying a Flight Center aircraft, please let the Front Desk know if you need any extra supplies.
CFI David Agranovich is the lead CFI on the trip, so please feel free to reach out to him at david@sancarlosflight.com with any questions. This is a popular airport and trip, so please make sure to book your plane early and RSVP. We look forward to seeing you on the trip.