Destination: Columbia
June 3, 2020 @ 7:00 pm

-

8:30 pm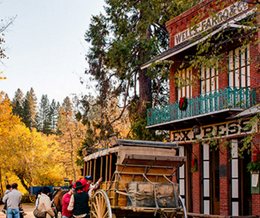 **Due to the COVID-19 public health crisis, this seminar will only be available for online viewing. IN-PERSON ATTENDANCE WILL NOT BE PERMITTED.**
Click here to learn more about online viewing.
Columbia is a history-rich town settled in the Sierra Nevada foothills, founded in the 1850s during the Gold Rush. The historic downtown area features the largest single collection of existing Gold Rush-era structures in the entire state, and offers saloons, merchants, a tea house, and much more. The Columbia Airport is an ideal airport to experience non-towered operations, grass runways, and the closest you can get to high-altitude airports.
San Carlos Flight Center invites experienced pilots Amanda Chan, and Marco Leogrande to share their experiences with flying to Columbia Airport and how to make the trip into a great weekend destination and memorable learning experience for all. The Columbia airport (O22) is located a mere 15 minutes walk from downtown, and it features a 4600 ft paved runway and a 2600 ft grass runway. An on airport campground, exclusively for pilots, offers picnic tables, barbecues, campsites, flush toilets and hot showers. At 2,121 ft MSL and surrounded by hills, O22 provides pilots with an introduction to the challenges involved with operating at a higher-elevation airport. This seminar will highlight the steps to help you plan a cross country flight plan from the Bay Area, and some of the necessary precautions needed while operating at a grassy, high altitude, and non towered airport.
If you are looking to find an airport that offers a unique challenge for many pilots, and be rewarded with the beautiful sights of Columbia; don't miss this webinar.
Marco Leogrande has been flying with the SCFC since 2017, and obtained his private pilot certificate in 2019. He has been drawn to general aviation by the adventure and opportunity of visiting California by air.
Amanda Chan, a software product manager for a Fortune 500 company, started flying in 2014 and earned her ASEL private pilot certificate in 2017. She has over 350 flight hours and recently completed training for a high-performance endorsement.
San Carlos Flight Center (SCFC) is the SF Bay Area's most dynamic flying club, committed to building general aviation thought safety, community, and adventure. AOPA has consistently recognized SCFC in their Best Flight School survey, most recently in 2019 as a Distinguished Flight School.
SCFC is committed to promoting safety in general aviation through our regular safety seminars and guest speaker programs. Space is often limited so it is important to sign up early. SCFC members may choose to watch the seminar live over the web at home, or recorded at a later date. Click here or contact a SCFC member service rep at (650) 946-1700 for more information about online access.