Certification Limitations
January 4, 2020 @ 12:00 pm

-

1:30 pm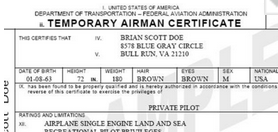 Meeting the requirements for a new FAA pilot certificate is a huge accomplishment that gives the certificate holder an exciting set of privileges. However, terms and conditions apply: there are limitations to what a newly minted pilot can do with their certificate.
Join CFI Kyle Smathers as he presents an overview of the limitations of pilot certificates up to the commercial certificate. In addition to the regulations listed in CFR 14, there are also letters of interpretation that government legal teams have published to clarify the meaning of the regulations. Just because you think a regulation means something, doesn't mean the government representatives think that it means the same thing.
Help yourself from inadvertently running afoul of government regulations by familiarizing yourself with what materials dictate the limitations on your certificate.
Kyle Smathers started flying in 2011 and is passionate about aviation. Kyle graduated from SJSU with an Aerospace Engineering degree, and now works as a CFI at San Carlos Flight Center. He is a Commercial: ASEL, Instrument Airplane Pilot. He offers training in Private Pilot, Commercial Pilot, High performance transition, Complex transition and Flight review.
San Carlos Flight Center (SCFC) is the SF Bay Area's most dynamic flying club, committed to building general aviation thought safety, community, and adventure. AOPA has consistently recognized SCFC in their Best Flight School survey, most recently in 2018 as the best flight school in the West.
SCFC is committed to promoting safety in general aviation through our regular safety seminars and guest speaker programs. Space is often limited so it is important to sign up early. SCFC members may choose to watch the seminar live over the web at home, or recorded at a later date. Contact a SCFC member service rep at (650) 946-1700 for more information about online access.