Airport of the Month: Oceano
June 1, 2022

-

June 30, 2022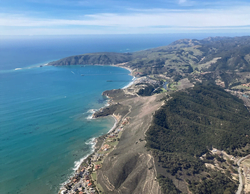 Summer has arrived, so what better way to kick off the season than with a trip to the beach? This June, head down south to Oceano Airport (L52), where a seaside airport awaits you on a sunny day.
Located south of San Luis Obispo, Oceano is famous for its miles of sand dunes and beachfront access. The dunes are a common attraction for thrill-seekers who attempt to take beach buggies up and down the sandy slopes, and there are even rides available if you want to try them for yourself. Other highlights include the numerous restaurants a five-minute walk from the airport or grab a ride-share into the nearby town of Pismo Beach for more options. The restaurants that specialize in crab dishes are particularly noteworthy. You can even get it to go if you'd like to take it to the beach for a picnic!
Oceano Airport is small with only a 2300-foot runway, but it does have self-serve fuel and a small terminal building. You may also utilize the camping spots next to transient parking if you want to stay overnight.
The arrival and departure from this airport are incredibly scenic, but ensure that you remain clear of San Luis Obispo's airspace and the restricted areas to the south unless you have permission from ATC to enter. Passengers are encouraged to have their cameras ready, as the views are spectacular.
Want to learn more about flying to Oceano? You can view a Safety Seminar on flying to Oceano in our Seminar Video Archive. Just search "Oceano" in the search field to view it!