What Every Student Pilot Needs to Know Before their Checkride
July 11, 2020 @ 12:00 pm

-

1:30 pm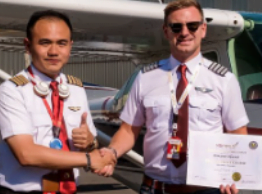 **Due to the COVID-19 public health crisis, this seminar will only be available for online viewing. IN-PERSON ATTENDANCE WILL NOT BE PERMITTED.**
Click here to learn more about online viewing.
It's the day that every pilot awaits; the transition from student pilot to certificated private pilot.  For most, the FAA Practical Test or "checkride" is viewed as a terrifying but necessary right of passage.  A Designated Pilot Examiners (DPE) must test each student thoroughly on their aviation knowledge, control and mastery of the aircraft, and risk awareness and judgment.  Even if the student has been perfectly prepared by their instructor, the checkride is still the unknown and a point of concern.  Let's change that.  With a guided look in the FAA's Airman Certification Standards document, any student pilot can better understand what standards they will be held to and how to ace their checkride.
San Carlos Flight Center invites local DPE Scott Rohlfing to help student pilots understand what can be expected during a private pilot checkride and learn what they can do to be prepared and confident on their big day.  In this seminar, Rohlfing will relay what student pilots need to know before the checkride, and share tips from his previous experiences from other checkrides to make sure the same issues don't arise on your checkride.  We have also asked him to review the different maneuvers and procedures that a DPE can request from a student pilot during the checkride so they can be ready to tackle anything.
If you are a student pilot that wants to be prepared, confident, and know what to expect on your checkride; you don't want to miss this unique seminar.
Scott Rohlfing is a DPE in the San Jose FSDO District and has conducted over 500 practical tests.  As a Gold Seal Flight Instructor he has given more than 6500 hours of dual instruction to CFIs and pilots of every level.  When not evaluating airmen or providing training, Scott has been a corporate pilot for 15 years and an active political advocate against the closure of Reid Hillview Airport.
San Carlos Flight Center (SCFC) is the SF Bay Area's most dynamic flying club, committed to building general aviation through safety, community, and adventure. AOPA has consistently recognized SCFC in their Best Flight School survey, most recently in 2019 as a Distinguished Flight School.
SCFC is committed to promoting safety in general aviation through our regular safety seminars and guest speaker programs. Space is often limited so it is important to sign up early. SCFC members may choose to watch the seminar live over the web at home, or recorded at a later date. Click here or contact a SCFC member service rep at (650) 946-1700 for more information about online access.