Using Videos In Your Flight Training
October 7, 2020 @ 7:00 pm

-

8:30 pm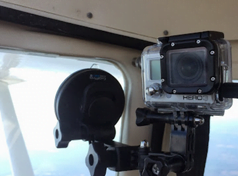 Due to the COVID-19 public health crisis, this seminar will only be available for online viewing. IN-PERSON ATTENDANCE WILL NOT BE PERMITTED.**
Click here to learn more about online viewing.
Learning how to fly an airplane is a complicated task. Each lesson is learning a new skill. Video recording your flight lessons can be very beneficial.  Not only can it show where you made mistakes and how you could fix, it can also be used when reviewing for a phase check, checkride, or BFR. But how should you do it? What equipment should you use and how best to post process the content?

San Carlos Flight Center invites Russell Bowerman, CFI, who has had experience using video during flight, and understands how to effectively use video tools to help his students succeed.  In this seminar, Russell will discuss some of the equipment that is required to record video/audio in flight, the advantages of using video in flight, and how to use it effectively.

If you want to get the most out of your flight training, consider joining us for this seminar and learn how in-flight videos can make you a better pilot.
Russell Bowerman has always maintained an interest in aviation, visiting aviation museums, taking sightseeing flights, and staying up to date on all the newest fighter jets and airliners.  After receiving his Private Pilot Certificate in 2018, he decided to make a career of it, attaining his Commercial and CFI ratings. Russell has been teaching and loving it ever since. Beyond flying, he really enjoys travelling and feels lucky to meet new people and learn about their diverse backgrounds in the process of flight training.
San Carlos Flight Center (SCFC) is the SF Bay Area's most dynamic flying club, committed to building general aviation through safety, community, and adventure. AOPA has consistently recognized SCFC in their Best Flight School survey, most recently in 2019 as a Distinguished Flight School.
SCFC is committed to promoting safety in general aviation through our regular safety seminars and guest speaker programs. Space is often limited so it is important to sign up early. SCFC members may choose to watch the seminar live over the web at home, or recorded at a later date. Click here or contact a SCFC member service rep at (650) 946-1700 for more information about online access.