User Waypoints: an Under-Utilized Feature of ForeFlight
May 2, 2020 @ 12:00 pm

-

1:30 pm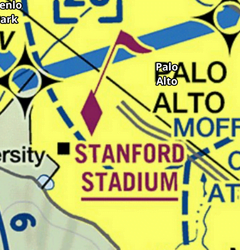 Have you ever flown over an interesting, easily-identifiable visual landmark, but look and discover it's not on the VFR Chart?  ForeFlight, the popular electronic flight tool for iPad, has a solution. You can now select your own user-defined waypoints within the app, allowing you to navigate more safely through complex airspace.

San Carlos Flight Center invites ATP and CFI Bob Leuten to explain the secrets of using user waypoints in ForeFlight.  The new feature is available in all versions of ForeFlight, even the $100 per year "Basic Plus" version. Bob will show you how to easily add User Waypoints for various landmarks used in the traffic pattern at San Carlos Airport that are not already identified as 'VP' fixes. These include the AT&T Tower, Kaiser Hospital, Sunken Ship and 'Abeam Hillsdale Shopping Center,' a key part of the new 'Hillsdale Departure' noise abatement procedure, and many more.  In addition, you will learn how to enter your own waypoints for home, work or those used for your own custom "Bay Tour." Once you master user waypoints on your iPad, it's an easy transition to enter a select few in your portable or panel-mounted GPS navigator for use with your autopilot.

We encourage all aspiring and current ForeFlight users to attend this seminar.  If you are able to bring your own iPad to this session (loaded with the current version of ForeFlight), you will be able to practice (in real time) naming, entering, editing and deleting real examples of user waypoints.  If you can't bring your iPad, just follow along. We hope to see you there.
Bob Leuten is an Airline Transport Pilot (6,000+ hours) and has been a Certified Flight Instructor (2,000+ hours) for over 50 years. He is a recipient of the FAA Wright Brothers "Master Pilot" Award and is a former member of the staff here at SCFC. Bob flies a Super Decathlon and has over 40 years experience at the San Carlos Airport.
San Carlos Flight Center (SCFC) is the SF Bay Area's most dynamic flying club, committed to building general aviation thought safety, community, and adventure. AOPA has consistently recognized SCFC in their Best Flight School survey, most recently in 2019 as a Distinguished Flight School.
SCFC is committed to promoting safety in general aviation through our regular safety seminars and guest speaker programs. Space is often limited so it is important to sign up early. SCFC members may choose to watch the seminar live over the web at home, or recorded at a later date. Click here or contact a SCFC member service rep at (650) 946-1700 for more information about online access.