Understanding and Avoiding Graveyard Spirals, An Exploration of In-Flight Illusions
November 28, 2020 @ 12:00 pm

-

1:30 pm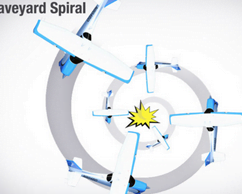 Due to the COVID-19 public health crisis, this seminar will only be available for online viewing. IN-PERSON ATTENDANCE WILL NOT BE PERMITTED.**
Click here to learn more about online viewing.
In primary training, pilots learn that visual and vestibular sensations do not necessarily reflect the actual position, speed and attitude of the aircraft they fly. If not recognized and remediated promptly, the discrepancy between sensation interpretation and aircraft circumstances can lead to loss of situational awareness, with possible catastrophic consequences.

San Carlos Flight Center invites Michel Vidal-Naquet, an FAA Advanced Ground Instructor, to explain common sensory illusions such as the graveyard spin, the graveyard spiral, the leans and much more. During this seminar he will describe how these illusions lead to specific accident trajectories, and discuss how they may be recognized. Learn how to positively control your aircraft during all phases of flight, to prevent from these unexpected illusions from happening.

This exploration will help pilots intimately understand the nature of common illusions experienced during different phases of flight, how these illusions relate to specific accidents, and how they can be recognized and overcomed in the future. With this knowledge, attendees can become safer pilots with a reinforced understanding of the danger of sensory illusions.
Michel Vidal-Naquet is an advanced and instrument ground instructor, and an instrument rated, commercial pilot with over 700 flight hours.  He started flying in 2013 after settling in the Bay area to work as a computer scientist and engineer.  His passion for aviation began during his early childhood when his family first took him on international flights.  He brings a scientific point of view to his flying, and is always learning.
San Carlos Flight Center (SCFC) is the SF Bay Area's most dynamic flying club, committed to building general aviation through safety, community, and adventure. AOPA has consistently recognized SCFC in their Best Flight School survey, most recently in 2019 as a Distinguished Flight School.
SCFC is committed to promoting safety in general aviation through our regular safety seminars and guest speaker programs. Space is often limited so it is important to sign up early. SCFC members may choose to watch the seminar live over the web at home, or recorded at a later date. Click here or contact a SCFC member service rep at (650) 946-1700 for more information about online access.