Transitioning to a Cirrus, What to Expect?
March 24, 2021 @ 7:00 pm

-

8:30 pm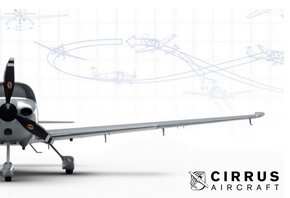 Due to the COVID-19 public health crisis, this seminar will only be available for online viewing. IN-PERSON ATTENDANCE WILL NOT BE PERMITTED.**
Click here to learn more about online viewing.
The Cirrus SR series aircraft is known as the most technologically advanced single-engine piston on the market. With seamless integration across its systems, pure luxury, speed, and safety – who wouldn't want to fly one?

San Carlos Flight Center invites Private Pilot Brandan Dadoun, who recently completed his Cirrus SR20 transition training, to highlight his experience. Cirrus is the only GA manufacturer that provides structured training courses and supplements for all Cirrus pilots. With an emphasis on safety brought about through their redundant reliable systems, CAPS airframe parachute, or structured training, no pilot will be left behind. Their training provides colorful and detailed step by step procedures & tutorials for all phases of flight and includes interactive activities to ensure comprehension. Brandan will conclude with an overview of the systematic, operational, and flight handling differences in the Cirrus compared to most other GA aircraft.

If you have ever dreamt of flying the sports cars of the skies, or want to learn more about the most incredible airplane in its class – join us for this seminar.
Brandan Dadoun is a private pilot and SCFC's Seminar Coordinator. He has completed the majority of his flight training at SCFC with over 200 flight hours and has extensive flying experience throughout all of California. He is an advocate for getting youth involved in aviation and is actively involved in many aviation programs himself. When he's not flying, he enjoys teaching others and spreading his love for aviation.
San Carlos Flight Center (SCFC) is the SF Bay Area's most dynamic flying club, committed to building general aviation through safety, community, and adventure. AOPA has consistently recognized SCFC in their Best Flight School survey, most recently in 2019 as a Distinguished Flight School.
SCFC is committed to promoting safety in general aviation through our regular safety seminars and guest speaker programs. Space is often limited so it is important to sign up early. SCFC members may choose to watch the seminar live over the web at home, or recorded at a later date. Click here or contact a SCFC member service rep at (650) 946-1700 for more information about online access.