Thermal Turbulence
June 20, 2020 @ 12:00 pm

-

1:30 pm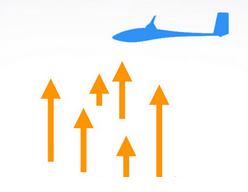 **Due to the COVID-19 public health crisis, this seminar will only be available for online viewing. IN-PERSON ATTENDANCE WILL NOT BE PERMITTED.**
Click here to learn more about online viewing.
Summer is here and all of us are itching to get back into flying.  However, with the hot summer heat comes Thermal Turbulence.  Want to know how it will affect your next flight?
San Carlos Flight Center invites commercial pilot and weather enthusiast Dave Kramer to discuss Thermal Turbulence.  In this seminar, Dave will cover what to expect from Thermal Turbulence, where to fly to get a good ride, and how to identify it before you get hit.  Many pilots don't know how to anticipate where and how Thermal Turbulence may impact your flight.  In some cases, that may be ok, but in other cases it is crucial to recognize the dangers that come with this Thermal Turbulence before you take your next summer flight.
Don't miss out on this opportunity to learn about Thermal Turbulence to better prepare you and your passengers for your next flight this summer..
Dave Kramer MD, an ophthalmologist for over 30 years, is an instrument rated, tailwheel, complex and high performance endorsed commercial MEL pilot as well as a basic and instrument ground instructor with an interest in weather. He has been flying since 2012, has over 1100 hours of which over 500 have been in the IFR system.  He also enjoys long cross country flying, night flying and flying in the LA area.
San Carlos Flight Center (SCFC) is the SF Bay Area's most dynamic flying club, committed to building general aviation thought safety, community, and adventure. AOPA has consistently recognized SCFC in their Best Flight School survey, most recently in 2019 as a Distinguished Flight School.
SCFC is committed to promoting safety in general aviation through our regular safety seminars and guest speaker programs. Space is often limited so it is important to sign up early. SCFC members may choose to watch the seminar live over the web at home, or recorded at a later date. Click here or contact a SCFC member service rep at (650) 946-1700 for more information about online access.