The Bay Area Pilots Guide to Travis AFB RAPCON
May 30, 2020 @ 12:00 pm

-

1:30 pm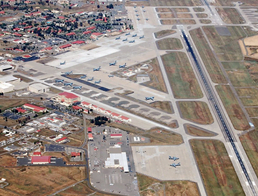 **Due to the COVID-19 public health crisis, this seminar will only be available for online viewing. IN-PERSON ATTENDANCE WILL NOT BE PERMITTED.**
Click here to learn more about online viewing.
Travis RAPCON is a unique approach facility that many Bay Area Pilots get the opportunity to talk to.  From VFR aircraft to C17's practicing approaches, Travis handles it all.

San Carlos Flight Center invites Master Sergeant John Addams, and Senior Airmen Cameron Roelofs to discuss the Travis RAPCON and its ATC services.  In this seminar they will cover how Travis accommodates basic service to VFR aircraft, and the benefits of receiving VFR flight following within their airspace.  They will also explain some of the ways that Class E airspace relates to Travis AFB, and why it's important to be talking to Travis RAPCON while operating in their airspace.  Lastly, how pilots can be direct, clear, and concise on the radio while talking to ATC.

The presenters are also eager to take questions from the GA flying community.  If you have ever wondered about the approach operations at Travis AFB, or if you want to learn more about their services and experiences; you won't want to miss this seminar.
Master Sgt John Addams from Olympia, WA. Currently the Assistant Chief Controller of Travis RAPCON. He's been in the Air Force going on 18 years.
Senior Airmen Cameron Roelofs from Grand Rapids, MI. He's been in the Air Force for 3 years and is one of our most talented controllers and trainers.
San Carlos Flight Center (SCFC) is the SF Bay Area's most dynamic flying club, committed to building general aviation thought safety, community, and adventure. AOPA has consistently recognized SCFC in their Best Flight School survey, most recently in 2019 as a Distinguished Flight School.
SCFC is committed to promoting safety in general aviation through our regular safety seminars and guest speaker programs. Space is often limited so it is important to sign up early. SCFC members may choose to watch the seminar live over the web at home, or recorded at a later date. Click here or contact a SCFC member service rep at (650) 946-1700 for more information about online access.