TBM Adventures Across Europe
January 18, 2020 @ 12:00 pm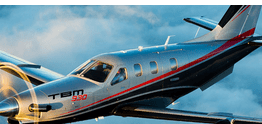 Flying in a 182 to the mountains might seem like the adventure of a lifetime, but how about flying a TBM 930 throughout Europe? For one Bay Area pilot, this was one of the most challenging but yet rewarding experiences he's ever had, and he is wanting to share it with all of you.
San Carlos Flight Center is pleased to invite ATP Tom McGraff to share his experience of flying across Europe. Tom had to undergo many tireless hours of planning, flying, and waiting for weather patterns to clear by. He was one of the very few pilots who dared to take their single engine across the Atlantic Ocean to get to Europe and back to mainland America. Tom will cover the many ways that one pilot could've gone about this trip, the challenges he faced and how he overcame them. With going to Europe across the Atlantic brings a whole new set of challenges; unpredictable winds, new ATC procedures, and limited options to land incase of an emergency. How did his training hold up?
You won't want to miss out on this opportunity to gain an insight on how a fellow pilot chartered across the unknown in an astounding journey that all pilots can learn from.
Tom McGrath brings over 6,800 hours to the discussion with trips to Europe, South America, Central America, and the Caribbean. Trips to most of the destinations were in Bonanzas and recently in TBM's. When not flying 350-400 hours a year, Tom is a consultant to the US Government on engineering risk.
San Carlos Flight Center (SCFC) is the SF Bay Area's most dynamic flying club, committed to building general aviation thought safety, community, and adventure. AOPA has consistently recognized SCFC in their Best Flight School survey, most recently in 2018 as the best flight school in the West.
SCFC is committed to promoting safety in general aviation through our regular safety seminars and guest speaker programs. Space is often limited so it is important to sign up early. SCFC members may choose to watch the seminar live over the web at home, or recorded at a later date. Contact a SCFC member service rep at (650) 946-1700 for more information about online access.