Student Challenges for Instructors
December 3, 2022 @ 12:00 pm

-

1:30 pm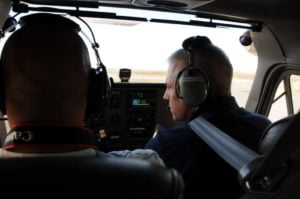 This seminar will only be available for online viewing. IN-PERSON ATTENDANCE WILL NOT BE PERMITTED.**
Click here to learn more about online viewing
Instructors provide training to pilots to take them from zero time to ready for the practical test. One thing instructors realize after teaching for a few years is that every student is different. As a brand new instructor, how do you recognize student challenges? If you identify them, how should you deal with them? For a new instructor, this isn't something you learn in CFI school, this is something that comes with experience.
In this safety seminar, Dan Dyer presents a methodology for handling student challenges. This methodology is based on human cognitive behavior to consider how humans learn. Dan will present an eye-opening basis for how CFIs teach knowledge vs risk management vs. flight skills. If you think these are approached in the same manner, you will want to tune into this seminar to learn a more effective method for teaching.
Regardless if you are a brand new CFI just cutting your teeth on a new student pilot, or a CFI with several years of teaching, this seminar will provide you with some key insights that you may not have considered before. Don't miss learning about strategies for dealing with student challenges. After this seminar, you will no doubt approach a future student challenge in a more effective way.
Dan Dyer is the founder of the San Carlos Flight Center, and has built the motto of Safety, Community, and Adventure for over 8 years.  Dan was an instructor for 15 years, accumulated over 4,000 flight hours, and is the Bay Area's local expert in crosswind landing instruction. He is known for finding simple and innovative ways to explain complex topics and regularly speaks on advanced ground school topics.  Find out more about Dan at www.sancarlosflight.com or contact him at dan@sancarlosflight.com
San Carlos Flight Center (SCFC) is the SF Bay Area's most dynamic flying club, committed to building general aviation through safety, community, and adventure. AOPA has consistently recognized SCFC in their Best Flight School survey, most recently in 2022 as a Distinguished Flight School.

SCFC is committed to promoting safety in general aviation through our regular safety seminars and guest speaker programs. Livestream access is free for everyone, but recorded seminars are available solely to members at a later date. Click here or contact a SCFC member service rep at (650) 946-1700 for more information about online access to our web archive of nearly 500 recorded safety seminars.