SpaceX Booster LA
January 25, 2020 @ 11:15 am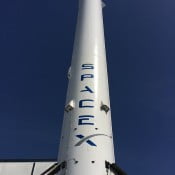 Stand next to the SpaceX Booster and see just how large it is
If Han Solo's Millennium Falcon can make the Kessel Run in less than twelve parsecs, then FOG can make the LA Run in 1 day.  Fly to LA and cross LAX to land at Hawthorne Airport aka Jack Northrop Field where SpaceX and its subsidiary The Boring Company is headquartered at the southeast end of the airport. In between the field and SpaceX is TESLA studios.
Outside of SpaceX, about a block's walk from the Jet Center, is a Falcon Booster Rocket. This is your unique opportunity to see it up close.  Unfortunately SpaceX, The Boring Company and TESLA do not offer tours so this is a limited focus mission to see the booster, have lunch and experience LA air space. We will meet at the Jet Center at 11:15 am.  After seeing the booster, we'll have lunch at Eureka at the Jet Center before returning home.
This is an awesome flight which offers many options to transverse the LA Bravo, a few which will take you over the LAX Airport Complex itself. You will truly feel privileged being a pilot.
Please sign up below so we can get an accurate headcount and keep you in the loop with updates.
FOG is for EVERYONE.  You do not have to be a San Carlos Flight Center member to attend.
Please note that you must be logged into the website in order to sign up