So You Want to Buy a Turbine?
February 24, 2021 @ 7:00 pm

-

8:30 pm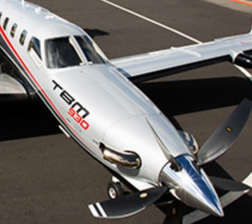 Due to the COVID-19 public health crisis, this seminar will only be available for online viewing. IN-PERSON ATTENDANCE WILL NOT BE PERMITTED.**
Click here to learn more about online viewing.
So you think you want to own a turbine aircraft? With owning a turbine comes many advantages including speed, endurance, safety, and reliability.

San Carlos Flight Center invites TBM pilot and owner Tom McGrath to highlight his experience as an owner of one of the most popular single-engine turbines on the market. In this discussion, he'll cover the performance and costs of ownership, focusing mainly on Turboprop aircraft, but also light jets. Tom will emphasize the increased performance he experienced in turbines as he was flying across the world, along with some of the expected maintenance associated with the airplane. He'll also provide a high-level overview of what to expect while operating a turbine aircraft including performance characteristics in all critical phases of flight, and additional training all pilots should consider.

Come hear and discuss the pros and cons of stepping into the "I love the smell of Jet fuel in the morning" crowd.
Tom McGrath is a 7000 hour pilot with 2700 in TBM aircraft over the last 9 years.  Tom stepped from Beech Bonanza's to the TBM in 2012.  Tom will use the experience of owning the TBM's and buying knowledge of competitors to bring the discussion to the prospective owner or dreamer.
San Carlos Flight Center (SCFC) is the SF Bay Area's most dynamic flying club, committed to building general aviation through safety, community, and adventure. AOPA has consistently recognized SCFC in their Best Flight School survey, most recently in 2019 as a Distinguished Flight School.
SCFC is committed to promoting safety in general aviation through our regular safety seminars and guest speaker programs. Space is often limited so it is important to sign up early. SCFC members may choose to watch the seminar live over the web at home, or recorded at a later date. Click here or contact a SCFC member service rep at (650) 946-1700 for more information about online access.