In-Person Seminars Begin – Private Pilot Jeopardy
Sat May 6 @ 12:00 pm

-

1:00 pm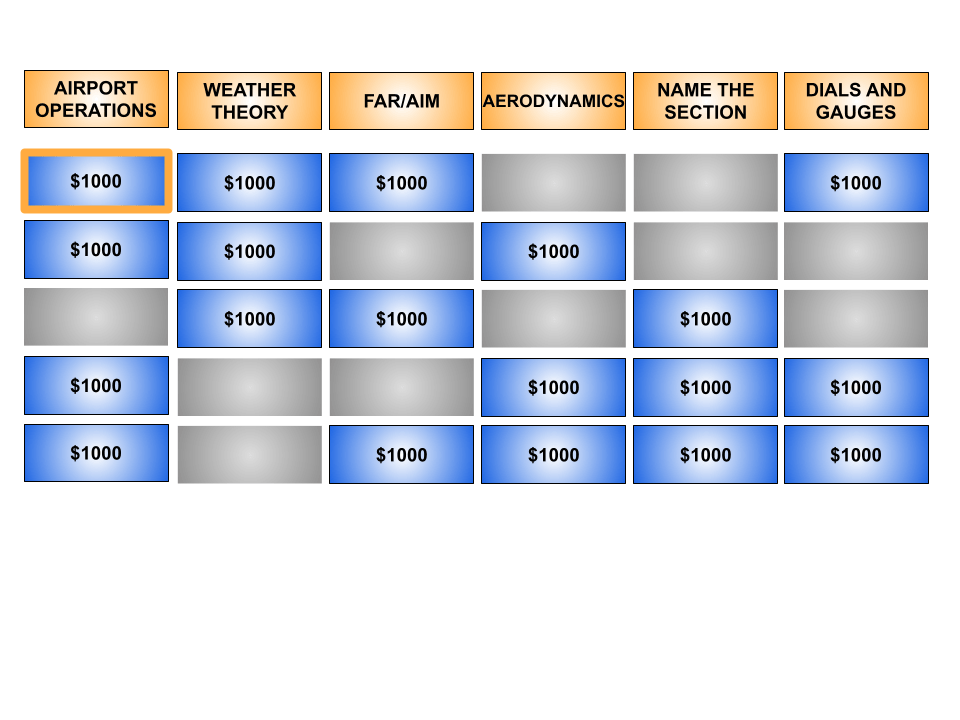 Starting with this presentation, most of our seminars will be held at SCFC's office. In-person attendance is free and open to all. Web Members will still be able to access our seminars online, both live and recorded. Click here to learn more about the transition.
---
Do you remember everything from your private pilot checkride? Being safe means keeping all that knowledge current and finding a fun way to test yourself. The San Carlos Flight Center has just the answer for you!
Calling all pilots to play Private Pilot Jeopardy! Put yourself to the test against other pilots to win the title of Private Pilot Jeopardy Champion. You are surely up for a challenge with our facilitators Chief Pilot Herb Patten, and SCFC Founder Dan Dyer.
In this game show-styled safety seminar, you will be quizzed on Federal Aviation Regulations, cockpit resource management, weather safety, aeronautical principles, situational awareness, and much more. Come to this seminar prepared with all the knowledge you brought to your private pilot checkride. All information that a VFR private pilot should know is fair game. May the best pilot win!
Herb Patten is the Chief Pilot at the San Carlos Flight Center, a CFI and an FAA certificated advanced and instrument ground instructor who teaches private pilot ground school at San Carlos Flight Center.  He is a commercial pilot with an instrument rating, has flown over 2,500 hours in more than 130 different California airports.  He is the current chairman of the Upwind Foundation, famous for its Upwind Summer Scholarship Program. In 2023, Herb was named a Distinguished Flight Instructor by AOPA.
Dan Dyer is the founder of the San Carlos Flight Center, and has built the motto of Safety, Community, and Adventure for over 8 years.  Dan was an instructor for 15 years, accumulated over 4,000 flight hours, and is the Bay Area's local expert in crosswind landing instruction. He is known for finding simple and innovative ways to explain complex topics and regularly speaks on advanced ground-school topics.  Find out more about Dan at www.sancarlosflight.com or contact him at dan@sancarlosflight.com
San Carlos Flight Center (SCFC) is the SF Bay Area's most dynamic flying club, committed to building general aviation through safety, community, and adventure. AOPA has consistently recognized SCFC in their Best Flight School survey, most recently in 2023 as a Distinguished Flight School for the third year in a row.
SCFC is committed to promoting safety in general aviation through our regular safety seminars and guest speaker programs. Our seminars are free to watch when attended in person at our facility in San Carlos but live streaming and viewing recorded seminars are exclusively available to members. Click here or contact an SCFC member service rep at (650) 946-1700 for more information about online access to our web library of over 500 recorded safety seminars and live-streamed content.