Operating at Truckee Airport
August 5, 2020 @ 7:00 pm

-

8:30 pm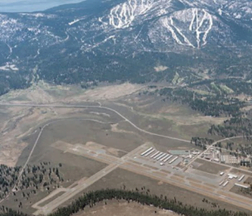 **Due to the COVID-19 public health crisis, this seminar will only be available for online viewing. IN-PERSON ATTENDANCE WILL NOT BE PERMITTED.**
Click here to learn more about online viewing.
Truckee Airport is the gateway to Lake Tahoe.  The spectacular views of Lake Tahoe are a short flight away, but pilots need to be aware of the challenges associated with these flights.  Truckee is settled well above sea level, located between mountainous terrain and gorgeous vistas.  This location brings variable weather conditions which can pose tricky to manage for new pilots.  While it can be an excellent place to visit, pilots need to be thoroughly familiar with airport procedures and to know what to expect upon their arrival in Truckee.

San Carlos Flight Center invites Mark Covey, the Pilot Outreach Coordinator at the Truckee Airport to talk with pilots about terrain, best routes of travel, tower operations, and upcoming ADS-B ground stations being installed near the airport and its impacts on flight.  Truckee is a dynamic airport with noise abatement procedures, curfews, seasonal flight considerations such as density altitude, mountain wave, icing, wildlife and much more.  Mark will also briefly touch on some of the things one might want to do in Truckee, along with the services the airport provides to visiting pilots.

If you are looking to plan a trip to Truckee sometime this summer, join us to feel more safe, confident, and knowledgeable on your upcoming trip to Truckee.
Mark Covey has worked at KTRK for 6 years.  He started out on the ramp and moved into Aviation & community services as Pilot and Passenger Outreach Coordinator.  He is an instrument rated pilot and is currently training for his commercial license. He commonly flies the airport's 2018 JT-A turbo diesel C172.  He is looking forward to presenting with the pilot community.
San Carlos Flight Center (SCFC) is the SF Bay Area's most dynamic flying club, committed to building general aviation thought safety, community, and adventure. AOPA has consistently recognized SCFC in their Best Flight School survey, most recently in 2019 as a Distinguished Flight School.
SCFC is committed to promoting safety in general aviation through our regular safety seminars and guest speaker programs. Space is often limited so it is important to sign up early. SCFC members may choose to watch the seminar live over the web at home, or recorded at a later date. Click here or contact a SCFC member service rep at (650) 946-1700 for more information about online access.