Insight into the A&P Certificate
October 16, 2021 @ 12:00 pm

-

1:30 pm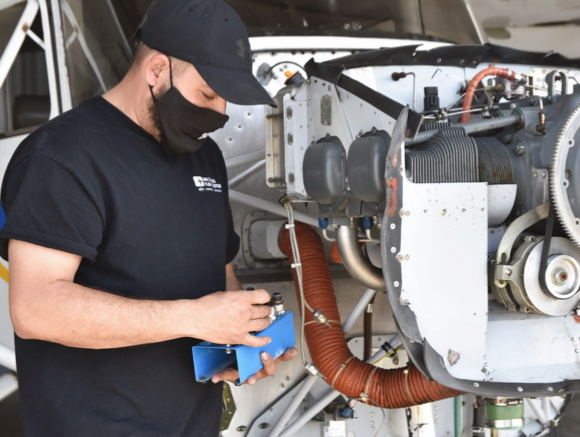 Due to the COVID-19 public health crisis, this seminar will only be available for online viewing. IN-PERSON ATTENDANCE WILL NOT BE PERMITTED.**
Click here to learn more about online viewing
Pilots know first hand how much hard work it takes to earn a pilot certificate.  What many don't know is that the standards for certification of aviation mechanics is just as high or higher. The process of obtaining an Airframe & Powerplant Mechanic certificate encompasses a thorough curriculum requiring comprehensive ground and practical knowledge.

San Carlos Flight Center invites A&P Tim Davis to cover what's involved in getting an A&P license. In this seminar, Tim will cover how the license is structured, what the basic requirements are, and the time and commitment involved. He will dive into what topics are actually covered in the knowledge (written) tests, and what the skill (oral and practical) tests consist of. There will also be a discussion of the expectations associated with the mechanic certificate, as well as other, related certifications that are also available.

The safety of flight relies on the competency and awareness of everyone associated with the flight, beginning with every mechanic who has ever worked on your airplane.  If you are an aspiring mechanic, or a veteran pilot we hope this seminar will give you a depth of understanding of how rigorous the process is for new mechanics.
Tim Davis is an A&P and aircraft mechanic at San Carlos Flight Center. A Bay Area native, he worked as a Quality Analyst for Electronic Arts and Blizzard Entertainment before completing aircraft maintenance training at City College of San Francisco and earning his A&P certificate.
San Carlos Flight Center (SCFC) is the SF Bay Area's most dynamic flying club, committed to building general aviation through safety, community, and adventure. AOPA has consistently recognized SCFC in their Best Flight School survey, most recently in 2019 as a Distinguished Flight School.
SCFC is committed to promoting safety in general aviation through our regular safety seminars and guest speaker programs. Livestream access is free for everyone, but recorded seminars are available solely to members at a later date. Click here or contact a SCFC member service rep at (650) 946-1700 for more information about online access to our web archive.