IFR and G1000
November 18, 2020 @ 7:00 pm

-

8:30 pm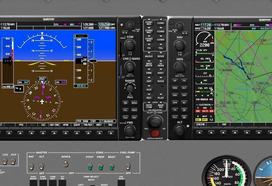 Due to the COVID-19 public health crisis, this seminar will only be available for online viewing. IN-PERSON ATTENDANCE WILL NOT BE PERMITTED.**
Click here to learn more about online viewing.
The G1000 offers a plethora of features that are used by both VFR and IFR pilots. All pilots should have a basic level of competence in operation of their G1000 equipped airplane, but it is even more relevant for IFR pilots because of the intricacies of the G1000 and the impacts of failures under IFR.

San Carlos Flight Center invites Brian Eliot, Assistant Chief Pilot, to discuss the most efficient use of the interface. This will improve pilot awareness of the various G1000 modes and understanding of incipient system failures. During this seminar Brian will cover the fundamentals of IFR flight using the G1000 interface, explain how to efficiently use the G1000 for instrument flight, and how to handle failures.

Join us if you are an aspiring IFR pilot and want to know how the G1000 will be a useful aid in your training, or if you are a seasoned IFR pilot looking for a refresher on the G1000 interface.
Brian Eliot is San Carlos Flight Center's Assistant Chief Pilot and resident expert for IFR training and Garmin G1000 avionics. He has been flying since 1995 and received all his training in the Bay Area. Brian previously worked as a broadcast engineer, a software developer, and taught computer science at both the undergraduate and graduate levels. He regularly presents at San Carlos Flight Center safety seminars and has a reputation for making complex concepts easy to learn and understand.
San Carlos Flight Center (SCFC) is the SF Bay Area's most dynamic flying club, committed to building general aviation through safety, community, and adventure. AOPA has consistently recognized SCFC in their Best Flight School survey, most recently in 2019 as a Distinguished Flight School.
SCFC is committed to promoting safety in general aviation through our regular safety seminars and guest speaker programs. Space is often limited so it is important to sign up early. SCFC members may choose to watch the seminar live over the web at home, or recorded at a later date. Click here or contact a SCFC member service rep at (650) 946-1700 for more information about online access.