I Just Got ForeFlight Now What?
July 22, 2020 @ 7:00 pm

-

8:30 pm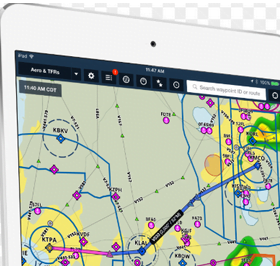 **Due to the COVID-19 public health crisis, this seminar will only be available for online viewing. IN-PERSON ATTENDANCE WILL NOT BE PERMITTED.**
Click here to learn more about online viewing.
Students and new pilots are increasingly flying with computer tablets, and using software that replaces paper charts and documents with the digital equivalents.  These applications, such as ForeFlight, are extremely powerful and have a plethora of features.  For a pilot just beginning to use ForeFlight, the choices and options seem overwhelming.  Valuable features and capabilities can go undiscovered.

Join SCFC in inviting Alessandro and Brandan to highlight some of the important first steps to take after downloading ForeFlight, and how to get started.  In this seminar, we will cover the most efficient ways to use this helpful software, along with many of the helpful tools to help with your flight planning.  Some of these include how to set up performance profiles, weight and balance, how to use geo referenced charts, and set up your electronic logbook. After this seminar you will feel confident using one of the most popular EFB's available to pilots.

(Note: ForeFlight can be quite overwhelming with features, but basic Internet connection and iPad operation can also be overwhelming.  While we hope to talk extensively about ForeFlight, this IS NOT a technical support seminar for basic Internet connectivity and iPad use.)

If you are just beginning to explore the features of ForeFlight and want to deepen your understanding on how to effectively use these great tools, you will want to attend this seminar.  Bring your tablet and show up to discover the best features for new pilots.
Alessandro Franco is a Private Pilot and the Director of Operations at San Carlos Flight Center. Alessandro was a recipient of the Upwind Summer Scholarship and has done all of his flight training at San Carlos Flight Center, including his training towards his Instrument Rating, which he is almost finished with.
Brandan Dadoun is a student pilot solo and SCFC's Seminar Coordinator. He has completed the majority of his flight training at SCFC with over 100 flight hours.  He is an advocate for getting youth involved in aviation and is actively involved in many aviation programs.  He is an active volunteer at the Hiller Aviation Museum, and previously an active volunteer in the local EAA chapter.  Brandan loves teaching others when he is not flying himself.
San Carlos Flight Center (SCFC) is the SF Bay Area's most dynamic flying club, committed to building general aviation through safety, community, and adventure. AOPA has consistently recognized SCFC in their Best Flight School survey, most recently in 2019 as a Distinguished Flight School.
SCFC is committed to promoting safety in general aviation through our regular safety seminars and guest speaker programs. Space is often limited so it is important to sign up early. SCFC members may choose to watch the seminar live over the web at home, or recorded at a later date. Click here or contact a SCFC member service rep at (650) 946-1700 for more information about online access.