GSR: Pressure and Density Altitude
Sat Oct 21 @ 12:00 pm

-

1:30 pm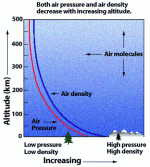 This seminar will be held in person at SCFC, attendance is free and open to all. Web Members will still be able to access our seminars online, both live and recorded. Click here to learn more about the transition.
Interested in watching more of our presentations? View our growing library of over 500 recorded safety seminars available to view in our Members Only Seminar Library, available by clicking here.
Pilots love altitude. So much that we've created a bunch of different kinds of altitude: true altitude, absolute altitude, indicated altitude, assigned altitude, and many more. Two of the most important and least understood are pressure altitude and density altitude. Many pilots might not have a complete understanding of pressure and density altitude. Are they even real altitudes at all?
In this seminar, SCFC CFI Travis Bender introduces and explains the terms "pressure altitude" and "density altitude" and demystifies their meanings. Although the word "altitude" is used, these are clearly not measures of altitude. In fact, they are measures of atmospheric pressure and density just converted into units that pilots can understand. Confusing at first, yes, but once understood they serve a valuable purpose in determining aircraft performance. Although few things are as important to a pilot as knowing the performance capability of the aircraft before taking to the skies, measuring the critical factor – atmospheric density – is not something that pilots can do directly. Instead we use rules of thumb, conversion factors, and our best understanding of how elevation, pressure, temperature, and humidity are interrelated.
Pilots of all levels need to improve their understanding of these concepts.  If you've ever opened your aircraft POH to the performance section and felt humbled, this seminar is for you.
Travis Bender is a CFI and CFII who learned to fly at San Carlos Flight Center. He has recently joined the team as a Staff Instructor at San Carlos Flight Center.
San Carlos Flight Center (SCFC) is the SF Bay Area's most dynamic flying club, committed to building general aviation through safety, community, and adventure. AOPA has consistently recognized SCFC in their Best Flight School survey, most recently in 2023 as a Distinguished Flight School for the third year in a row.
SCFC is committed to promoting safety in general aviation through our regular safety seminars and guest speaker programs. Our seminars are free to watch when attended in person at our facility in San Carlos but live streaming and viewing recorded seminars are exclusively available to members. Click here or contact an SCFC member service rep at (650) 946-1700 for more information about online access to our web library of over 500 recorded safety seminars and live-streamed content.