FOG Lunch: Half Moon Bay
October 10, 2021 @ 12:00 pm

-

2:00 pm
On October 10th, make the quick hop over the Santa Cruz Mountains to Half Moon Bay (HAF) for lunch. The flight is quick from points around the Bay Area but is much faster and less stressful than navigating the traffic on Highway 92. This is a perfect flight to take friends and family on, as it affords stunning views of the local coastline, beaches, and mountains in such a short flight.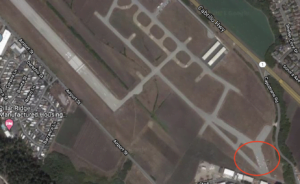 After landing, taxi to the small ramp on the southeast side of the airport (located south of the taxiway that takes you to Runway 30, see picture to the left). Secure your aircraft and we'll walk through the gate to meet at Mezza Luna at 12 PM, one of the best restaurants in the town. Enjoy an Italian lunch, and afterward, feel free to walk around the area. Pillar Point towards the west offers short hiking trails to secluded beaches, or venture to the marina, where you can buy fresh seafood right off the back of the boats that caught them.
While October is often a good time to visit Half Moon Bay, low fog and clouds may prevent VFR traffic from participating. If this is the case, we will alter our destination to Stockton (SCK). The FOG coordinator will advise those who registered if a change is needed.
Please RSVP below so we can inform the restaurant of our headcount. We hope to see you in Half Moon Bay on October 10!