Fly the Washington DC SFRA without becoming a CNN Headline
September 12, 2020 @ 12:00 pm

-

1:30 pm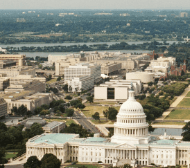 **Due to the COVID-19 public health crisis, this seminar will only be available for online viewing. IN-PERSON ATTENDANCE WILL NOT BE PERMITTED.**
Click here to learn more about online viewing.
Ever wondered what it's like to fly over the most congested, compact, and most important city in America? Flying in the stressful Washington DC SFRA is one of the most challenging airspaces in America, and makes flying in any other airspace seem easy. 
San Carlos Flight Center invites CFI Mari May Baratto to share the "tricks and tips" to demystify the SFRA, and break down the standard procedures. You will learn how to get in and out of the SFRA using local unpublished procedures, so when you hear ATC say "Special awareness training is required for VFR flying within 60 NM of the DCA VOR/DME" you will be prepared.  Mari will also review these special procedures and requirements so that any pilot will know what to expect while flying in this demanding area. 
If you are ever planning on flying in Washington DC, or just want to delve into what a pilot might need to recognize to fly in a SFRA, don't miss this seminar. 
Mari May Baratto is a Certified Flight Instructor and an FAA Instrument Ground Instructor with experience teaching both Private and Commercial Pilot students. A commercial rated pilot both in Brazil and in the United States, Mari has a diverse background flying through different airspaces, especially through one of the country's most intimidating areas, the Washington DC SFRA. Mari has been recognized as a 2018 Distinguished Flight Instructor by AOPA.
San Carlos Flight Center (SCFC) is the SF Bay Area's most dynamic flying club, committed to building general aviation through safety, community, and adventure. AOPA has consistently recognized SCFC in their Best Flight School survey, most recently in 2019 as a Distinguished Flight School.
SCFC is committed to promoting safety in general aviation through our regular safety seminars and guest speaker programs. Space is often limited so it is important to sign up early. SCFC members may choose to watch the seminar live over the web at home, or recorded at a later date. Click here or contact a SCFC member service rep at (650) 946-1700 for more information about online access.