DME Arcs
September 11, 2021 @ 12:00 pm

-

1:30 pm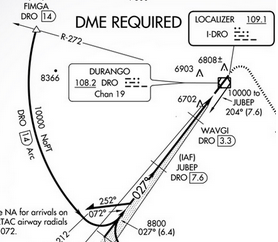 Due to the COVID-19 public health crisis, this seminar will only be available for online viewing. IN-PERSON ATTENDANCE WILL NOT BE PERMITTED.**
Click here to learn more about online viewing.
You've read about them and maybe had to answer a knowledge test question about them but do you really need to know the details of a DME arc on an instrument approach?  After all, you are flying with modern avionics with WAAS capability, VOR approaches are a thing of the past right?  Then it happens, you are IMC and your destination is below minimums, even the LPC, and know you need to divert.  You divert to an airport and pull up the approach chart and realize the approach has a DME Arc.  Do you remember how to do it?  What will you do if the GPS and autopilot won't magically fly the arc for you?

Do not fear the arc.  In fact, they can be quite fun and rewarding and will keep you proficient with the basic navigation instruments.  In this seminar, Brian Eliot will demystify the DME arc approaches found at Crescent City (KCEC), Fresno Chandler Executive Airport (KFCH), Tri-Cities Airport (KPSC), Yakima Air Terminal (KYKM), along with two right here in the Bay Area, Watsonville (KWVI) and Salinas (KSNS).

If you are an IFR, or interested VFR pilot, take advantage of the expert insight offered by Brian Eliot, IFR resident expert at San Carlos Flight Center.

Brian Eliot is San Carlos Flight Center's resident expert for IFR training and Garmin G1000 avionics. He has been flying since 1995 and received all his training in the Bay Area. Brian previously worked as a broadcast engineer, a software developer, and taught computer science at both the undergraduate and graduate levels. He regularly presents at San Carlos Flight Center safety seminars and has a reputation for making complex concepts easy to learn and understand.
San Carlos Flight Center (SCFC) is the SF Bay Area's most dynamic flying club, committed to building general aviation through safety, community, and adventure. AOPA has consistently recognized SCFC in their Best Flight School survey, most recently in 2019 as a Distinguished Flight School.
SCFC is committed to promoting safety in general aviation through our regular safety seminars and guest speaker programs. Livestream access is free for everyone, but recorded seminars are available solely to members at a later date. Click here or contact a SCFC member service rep at (650) 946-1700 for more information about online access to our web archive.