Destination – French Valley Airport, Staying Safe at a Busy Non-Towered Airport
April 3, 2021 @ 12:00 pm

-

1:30 pm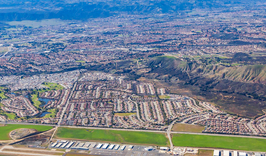 Due to the COVID-19 public health crisis, this seminar will only be available for online viewing. IN-PERSON ATTENDANCE WILL NOT BE PERMITTED.**
Click here to learn more about online viewing.
French Valley Airport (F70) is a busy non-towered airport located just a short flight from Los Angeles. With hundreds of operations a day, operating at this airport will keep many pilots at the top of their game.

San Carlos Flight Center invites Commercial Pilot Dave Kramer for a review of his recent round-trip journey to French Valley airport in a Beech Baron. In this seminar, Dave will discuss his route of flight, planning considerations such as the crowded Los Angeles Bravo and Ontario airspaces, along with a review of operations into and out of F70. Long cross-country trips require extensive planning and Dave will demonstrate his process for obtaining preflight planning information about a new airport in a systematic manner. Lastly, he will cover the different things one might do at French Valley, such as golfing, dining, and an abundance of outdoor activities.

Flying long distance can be a new challenge for some, but navigating the complexities of the LA airspace while getting to your destination poses an entirely different learning curve. Join us to feel confident on your next trip to this beautiful airport
Dave Kramer MD, an ophthalmologist for over 30 years, is an instrument rated, tailwheel, complex and high performance endorsed commercial MEL pilot as well as a basic and instrument ground instructor with an interest in weather. He has been flying since 2012, has over 1100 hours of which over 500 have been in the IFR system.  He also enjoys long cross country flying, night flying and flying in the LA area.
San Carlos Flight Center (SCFC) is the SF Bay Area's most dynamic flying club, committed to building general aviation through safety, community, and adventure. AOPA has consistently recognized SCFC in their Best Flight School survey, most recently in 2019 as a Distinguished Flight School.
SCFC is committed to promoting safety in general aviation through our regular safety seminars and guest speaker programs. Space is often limited so it is important to sign up early. SCFC members may choose to watch the seminar live over the web at home, or recorded at a later date. Click here or contact a SCFC member service rep at (650) 946-1700 for more information about online access.