Challenges and Rewards of Instrument Rating
May 20, 2020 @ 7:00 pm

-

8:30 pm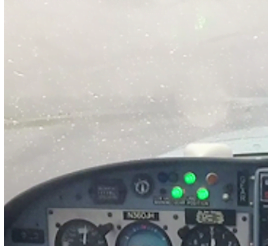 **Due to the COVID-19 public health crisis, this seminar will only be available for online viewing. IN-PERSON ATTENDANCE WILL NOT BE PERMITTED.**
Click here to learn more about online viewing.
An IFR rating is a logical next step for pilots after becoming a private pilot.  Transitioning from flying with your eyes outside on the natural horizon to flying inside with reference to instruments is a big shift.  There are new charts, new procedures, and a new set of regulations that need to be learned.  Understanding the nuances of weather and ATC communications becomes even more relevant for an IFR pilot.

Although the IFR Rating is challenging, earning it will definitely make you a safer pilot.  It also opens up new options for departing on your cross country trip even when the weather is less than VFR.  Even more so, for aspiring pilots looking to get into the commercial aviation world, this is the next logical step to take.  Join AGI and CFI Herb Pattern as he will share his experiences of working towards an IFR Rating.  He will share the challenges they encountered and the rewards of the rating, along with sharing what the advantages are of having an Instrument Rating.

If you are looking to pursue your instrument rating, this is the seminar for you.
Herb Patten is the Assistant Chief Pilot at the San Carlos Flight Center, a CFI and an FAA certificated advanced and instrument ground instructor who teaches private pilot ground school at San Carlos Flight Center. He is a commercial pilot with an instrument rating, has over 1,500 hours and flown into at least 120 different California airports. He is the current chairman of the Upwind Foundation, famous for its Upwind Summer Scholarship Program. In 2015, Herb was named a Master Instructor by the National Association of Flight Instructors.
San Carlos Flight Center (SCFC) is the SF Bay Area's most dynamic flying club, committed to building general aviation thought safety, community, and adventure. AOPA has consistently recognized SCFC in their Best Flight School survey, most recently in 2019 as a Distinguished Flight School.
SCFC is committed to promoting safety in general aviation through our regular safety seminars and guest speaker programs. Space is often limited so it is important to sign up early. SCFC members may choose to watch the seminar live over the web at home, or recorded at a later date. Click here or contact a SCFC member service rep at (650) 946-1700 for more information about online access.