Challenge Yourself: Mastering A/C Systems and Avionics
May 22, 2019 @ 7:00 pm

-

8:00 pm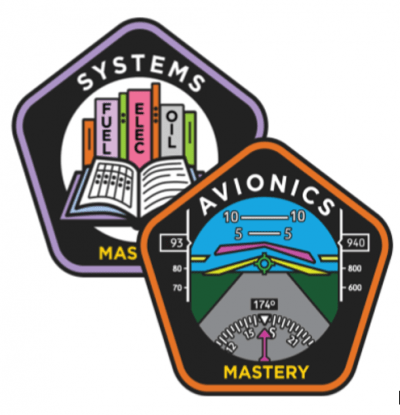 Are you master of your aircraft? Do you understand the full power and capability of the systems and avionics on your aircraft? Or have you just met the minimum capability to be a Private Pilot. Challenge yourself! The Private Pilot certificate is a license to learn. Start on the path to add enough knowledge and skill to truly master the sky!
Last year, San Carlos Flight Center launched a Mastery Badge program for pilots who want to be the best pilot they can be. Although the FAA defines only the minimum standards for airman certification, and 70% is considered a passing grade on the Knowledge Test, SCFC thinks we should all aim a little higher. The Mastery Badge program defines the knowledge, risk awareness, and skills required to demonstrate that a pilot has reached the top of each of twelve mastery areas.
In this seminar, CFI Dan Dyer will describe the standards that SCFC has set for two of the pilot Mastery Badges – Mastery of Aircraft Systems, and Mastery of Avionics. We'll review the mastery targets that pilots will aim for during mastery training. Systems topics include the electrical system, environmental control systems, and emergency systems. Avionics topics include GPS units, traffic and weather displays, and autopilots.
Basic competency in these areas can often come quickly, even though mastery may take years and a different approach. We encourage you to invest in your knowledge and abilities, and refocus your attention on powerplant operations as you become your own master of the sky. Join us to better understand the training challenge before you.
Dan Dyer is a flight instructor and Chief Pilot of San Carlos Flight Center. He has been instructing for 14 years, has over 4,000 flight hours and is the Bay Area's local expert in crosswind landing instruction. He is known for finding simple and innovative ways to explain complex topics and regularly speaks on advanced ground school topics. Find out more about Dan at www.sancarlosflight.com or contact him at dan@sancarlosflight.com
San Carlos Flight Center (SCFC) is the SF Bay area's most dynamic flying club, committed to building general aviation thought safety, community, and adventure. AOPA has consistently recognized SCFC in their Best Flight School survey, most recently in 2018 as the best flight school in the West.
SCFC is committed to promoting safety in general aviation through our regular safety seminar and guest speaker programs. Space is often limited so it is important to sign up early. SCFC members may choose to watch the seminar live over the web at home, or recorded at a later date. Contact a SCFC member service rep at (650) 946-1700 for more information about online access.